Paula Ryan – Turas Cumadoir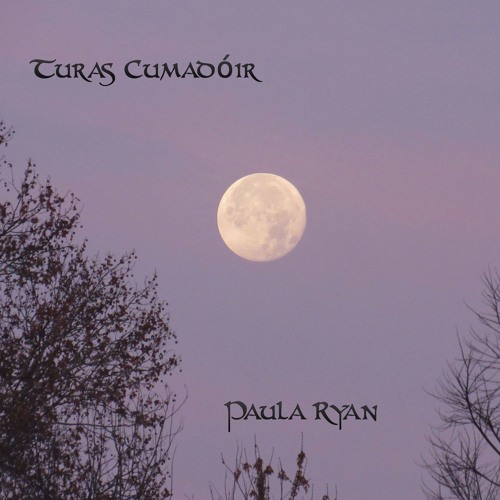 Paula Ryan, singer, composer and multi-instrumentalist originally from Tipperary goes on a "songwriter's journey" (the translated Gaelic language album title) single-handedly writing and arranging all songs, supplementing the main instruments by playing a variety of items (Marimba, Bazouki, Guitar, Bodhran, Saxophone, Low Whistle etc.).
There's a folk base threaded through this collection and a charming innocence throughout the range of diversely upbeat, forthright and touchingly sensitive songs. Paula's vocals are warm and her lyrics range from personal to perceptive, inspirational with a storyteller's touch. The production is clear and the arrangements relatively simply suit the song, with the percussive tracks more appealing to me (Garryroe and You make me Laugh), with special plaudits for the aforementioned marimba. Uncomplicated.
Twitter: @PaulaRyanMusic 
Facebook: www.facebook.com/paularyanmusic 
Instagram @PaulaRyanMusic 
I See Hawks in L.A. & The Good Intentions –  'Hawks with Good Intentions'
Paul Lacques and Victoria Jacobs from I See Hawks in L.A. first met Peter Davies and Gabrielle Monk of The Good Intentions at a house party in Sierra Madre. That years-old meeting of Liverpool 'brit-americana' folk duo and folky Americana/California country rock icons has finally led to a unique collaboration.  Except for some slide guitar, the songs are acoustic, with contributions from fiddler Gabe Witcher (Punch Brothers) and Richie Lawrence (Yolos, Ray Bonneville) on accordion. 
Subtle and at times gaping differences in musical sensibilities, phrasing and idioms, as well as personality and hardened songwriting habits, has birthed a carefully crafted and unique collaboration featuring duets and harmonies by all of both bands' singers.There might not be a UK/US trade agreement yet, but this is a UK/US trad agreement, an Americana / British folk mind meld, a modern cross-pollination with 60s & 70s roots, performed in a relaxed and timeless troubadour fashion. Comforting. 
www.facebook.com/I-SEE-HAWKS-IN-LA-10491505839
www.facebook.com/The-Good-Intentions-143364275710625
www.twitter.com/@iseehawksinla
www.twitter.com/@goodintention3
Session Americana – 'North East'
Session Americana's new album North East is an exploration of popular and folk music from the Northeastern United States filtered through the many tastes and voices of the Session Americana community. These songs with New England roots transcend era and genre, putting a contemporary spin on the region's musical history. There are countrywide references and some English roots. You'll hear evocations of James Taylor, REM, the Band, Kenny Rogers, Rickie Lee Jones, Stevie Nicks, Dolly Parton and much, much more making it a worthwhile listen.
Bill Morrissey's 'You'll Never Get to Heaven', sees Zac Trojano voice the despair of once-mighty mill towns haunted by the ghosts of prosperity past. Patty Griffin's 'Goodbye' sung by Jennifer Kimball, has a longing that lingers. Not all is gentle melancholy though. There's a raucous, stripped-hoedown version of the Pixies' 'Here Comes Your Man' and that do-it-yourself insistent beat of acoustic guitar and snare drum on 'Roadrunner'. You've got Old World charm and New World grit, performed by a collective of talented musicians giving the music a modern personality with respectful echoes. Kaleidoscopic.
www.facebook.com/session.americana
www.twitter.com/SessionAmerican
Bob Bradshaw – 'Queen of The West'
For his fourth album of original songs since earning a degree from the Berklee School of Music, he has enlisted long-time collaborators Scoop McGuire, Andrew Stern, Andy Santospago and Chad Manning, as well as top artists from his adopted Boston, including Duke Levine, James Rohr, Kris Delmhorst, Dave Westner, Annie Lynch, Britt Connors, Ed Lucie and Mike Connors.
There's heartache, humour and allusion within thirteen cross-connected songs in which the characters he draws explore identity issues, struggle with loss, and – as in all the best westerns – seek redemption. The 'Queen of The West' herself – Ruby Black – is both a gun-toting femme fatale and an anguished mother pleading for her son's life. Bradshaw is a native of Ireland at home in the frontiers of the American west. The warm timbre of his voice and the rootsy pedal steel, fiddle and guitar-twang instrumentation give the songs on Queen of The West such richly textured Americana, you'd suspect Bradshaw hails from Austin, not Cork. Dusty.
www.facebook.com/BobBradshawmusic
Silver Lake 66 – 'Ragged Heart'
Maria Francis and Jeff Overbo began playing music together in Minneapolis, moved to Los Angeles and fronted a band called The Ruby Trees, Maria battling lupus while there. A move to Portland, Oregon was accompanied by a diagnosis of thyroid cancer. In the end, she overcame the odds and is now cancer-free! With a like minded tribe of Portland musicians who helped them get back into the art of music-making, Silver Lake 66 was born. In August 2016, the duo released the LP, Let Go or Be Dragged, which featured a collection of songs drawn from personal experiences of travel, love, loss and adversity.
Ragged Heart is a continuation of their journey as a couple, as individuals, and as a like-minded musical duo. Together, they perform outstanding roots-laden duets following in the footsteps of Americana greats from Lucinda Williams to The Civil Wars. With the addition of strings and horns, the album centres around a message of resiliency and hope. They define modern Americana with Silver Lake 66. With a winning amalgamation of classic country, folk and blues, their songs display their knack for authentic, heartstring-tugging songwriting, impeccable harmonies and ardent guitar-playing.  Personal.
Man the Lifeboats – When the Time Bell Rings
October 2016. London Town. Underneath the arches of the Garage, Islington, two bands ignite the audience. Holy Moly & The Crackers' cool blend of gorgeous gypsy folk and garage rock sets the standard, which Skinny Lister reach with their frenetic, upbeat folk, their manic energy, singalong song-writing genius and heart-on-the-sleeve soulfulness. That night, a twinkle in the eye and a fire in the soul sees the birth of Man The Lifeboats. Their objective? To play the same, raucous, upbeat folk music, to drag traditional folk tunes kicking and screaming into the 21st century, to craft songs with big choruses that tell stories. To make us laugh and cry, to be alive and feel it.
The album features 13 tracks of contemporary folk music, tell tale songs of drunken nights, doomed love and lost evenings. There are songs for good times and hard times, songs of love and songs of longing, with fighting talk and an emotional walk, songs from the streets of London, the shores of Essex and the hills of Yorkshire. It's homely, it's welcoming, it's lively and it's lyrical. Laugh out loud lyrics, pounding bass lines, lilting mandolin, uplifting whistle and fiddle melodies and stomping beats, Man The Lifeboats have cornered the market in party folk with an edge or good-time music with a conscience. Someone said "a tonic for troubled times". Agree!
www.facebook.com/manthelifeboatsband
www.instagram.com/man_the_lifeboats
Heartland Again – Tim Grimm

For the past 20 odd years the singer-songwriter and actor blended his love for folk music, songwriting and travel with acting in theatre, film and television, and composition for the theatre. A leading exponent of Folk and Americana, he paints stories with rare and intense colour and musicality, as his perceptive and engaging songs resonate. 
The stories on this album come from the heart and deepest memories, whether of his recently deceased father, a grandfather who inspired his farming love, life between Los Angeles and Indiana, and 20 years of family and friends, and the roots put down. There is a warmth and depth, and an overwhelming sense of homeliness. No frills, but good 'ole honesty, of which there is little around in the higher echelons these days. Heartfelt.
www.facebook.com/timgrimmmusic
When they Fall – Annie & Rod Capps
 The October release follows  2015's Searching for Neverland. Their eighth full-length album, songs written as far back as 2008 combine with recent fare. With Anny providing lyrics and melody through a disarmingly earthy voice, musicians include husband and partner Rod Capps (guitar, viola, vocals), Jason Denny (mandolin, mandola, vocals), Dan Ozzie Andrews (double and electric bass), and  Michael Shimmin (drums). Other guests Drew Howard adds pedal steel magic on 'Myths & Miracles', 'Happy New Year' and 'Build the Fire', while 'Brevity' features delicious vocal harmony from Jenny Bienemann.
Ranging from whimsical and light to moody and dramatic, the songs separately explore life's bigger questions unified by title track When They Fall. Annie's voice has an unique timbre. Sonically lush, instrumentally clever and lyrically impactful, it's a journey of emotions and one impossible to pigeon-hole into any one genre, integrating Americana & Folk with influences from rock, jazz, and bluegrass. Genuine and playful, it comes across as effortless and endearing with a rootsy vibe, a touch of twang, and a soulful groove. Diverse.
www.facebook.com/annieandrodcapps