Catherine MacLellan – Coyote
Juno Award winner (for her last album of original songs,The Raven's Sun), Catherine MacLellan returns after a four-year break (celebrating the life and legacy of her father GeneMacLellan (writer of Anne Murray's Snowbird) with this eagerly anticipated sixth album.  They were all recorded and produced at Catherine's home studio in Prince Edward Island. This self-produced record is a travelogue through heartbreak, loss and the joy of life.
Coyote contains 14 reflective, heartbreaking and hopeful songs composed and collected since 2015, during which time her life and perspective has changed. The Raven's Sun was an intimate look into her musical work with long-time collaborator Chris Gauthier, Coyote builds on that and adds the sounds of a fuller band and accordions, fiddles and bouzouki. MacLellan has a purity of voice that engages the heart as well as the head. Pure.
www.facebook.com/catherinemaclellanmusic
Threepenny Bit – King Ahtu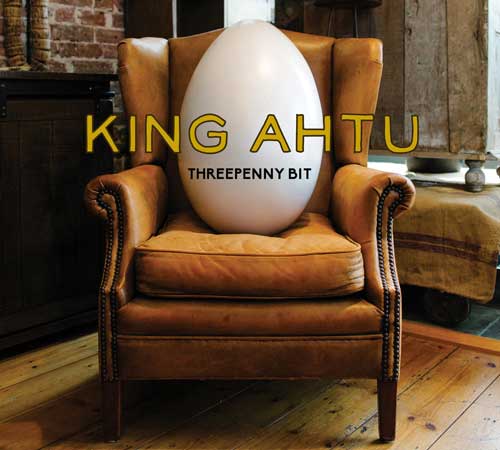 Five years on from the ceilidh atmosphere of the jigs and reels of the 'Pantomime Cannon' album, comes this diversion, their fourth album. The eight-piece instrumental band have added some tools to their toolbox, enhancing the traditional with adventure. Alto sax, fiddle, clarinet and flute join accordion, guitar, drums and bass.
Rather than capturing the live sound, this album uses its rich production to showcase complex rhythmic and harmonic elements embedded in some intricate self-penned compositions and trad arrangements whilst still allowing the melodies to have top billing. Toe-tapping is obligatory, whether evocative soundscapes or tightly woven grooves are created. Infectious.
Natalie McMaster – Sketches
 With over 300,000 albums sold, Canada's most endeared and revered fiddler is an award winner – including but not limited to a GRAMMY Award win and nomination, a JUNO Award win and seven nominations,19 East Coast Music Association awards, and five Canadian Country Music Association's "Fiddler of the Year" nods – as well as three honorary doctorates, an induction into the Casino Nova Scotia Hall of Fame,and a member of the Order of Canada. Natalie's career has included performances with Faith Hill, Carlos Santana, and The Chieftains as well as award-winning collaborations with Yo-Yo Ma, and more recently with husband Donnell and their (seven) children.
"Queen of the Fiddle" Natalie MacMaster has putting bow to fiddle for her first solo album release in eight years, producing a fiery collection of traditional tunes and medleys mixed with new compositions looking back at her life and times."I have something to say through my fiddle", Natalie says, going on to add,"I have chosen one of my very favourite musicians to join me, Tim Edey, an absolute gem of a player and person…….It'll be a moment of joyous appreciation inspired by years of parenting, marriage, friendships, music, and life." From the opening jigs that show how closely Irish and Canadian folk fiddle are related, to the final delicate closer, the fiddle speaks and sings eloquently, joyfully and hopefully. Hearty – and heartfelt.
www.natalieanddonnell.com/home/natalie—macmaster
www.facebook.com/nataliemacmaster
Kelly Steward – Tales and Tributes of the Deserving and Not So
From Rockford, Illinois but with some of her life lived in Chicago and Los Angeles, her son's birth brought her back and fate led her to meet and work with producer and fellow musician Miles Nielsen (yes, son of Cheap Trick's Rick). After a couple of EPs,  Steward has enough of a solo character and style to venture into full album territory. Produced with her band guitarist Greg Whitson, the songs are filled with a haunting neo-traditional reflective country ambience – observations of her growing years as musician, mother and lover, and of those who crossed her path through those learning years.
Amongst the traditional sounds is a little indie flavouring, adding spice but subtle enough to ensure the retention of that homespun charm so beloved of this kind of music. There's also plenty of variety in songs to maintain the interest from shuffle to ballad to waltz etc), and some clever guitarwork to add greater colour throughout but in particular supporting the story of the "Outlaw". If I were to say she reminds me of a female Roy Orbison, I hope you'll understand what I am trying to get over – masterful storytelling vocals able to sing so well through a variety of styles of music. There are echoes of mid '70s Laurel Canyon era female singer songwriters like Emmylou Harris,Joan Baez and Linda Ronstadt – not bad company! Personal.
www.facebook.com/kellystewardmusic
Miles Nielsen and The Rusted Hearts – Ohbahoy
OHBAHOY, the new album from Midwest rockers Miles Nielsen and the Rusted Hearts, finds the band firmly rooted in Americana but keen to create something fresh. The 5-piece outfit are made up of Nielsen (guitar, lead vocals), Daniel James McMahon (guitar, vocals), Adam Plamann (horns,keyboards, percussion, vocals), Dave McClellan (bass, vocals) and Jeff Werckle (drums, percussion). Neilsen in particular has pedigree, as son of Cheap Trick's Rick Neilsen. But he's in good company.
Strong storytelling and vocals oversee the songwriting in the tradition of legends like Tom Petty and the Beatles, which in turn reflects the combination of power pop, melodic ballad and country/guitar rock, but along the way you'll also get a dancehall vibe, pulse-quickening, relentless energy, tight drums, rich guitar tones, gorgeous woodwinds,and sweeping harmonies. Infectious.
www.facebook.com/milesnielsenmusic
Track Dogs – Fire on the Rails
Garrett Wall, Dave Mooney, Howard Brown & Robbie K. Jones take their artistic name derives from the dark subterranean world of New York's subway system. Supplemented by Nashville talent, Eli Bishop (Grand Ole Opry, Wynton Marsalis) provides string arrangements for 'Love And War', 'On The Last Night' and 'Abi's Lullaby'. Ashley Campbell lends her pristine banjo picking to 'Don't Delay'. 'Fire on the Rails' pulls together folk legends Phil Beer of Show of Hands, Grammy-winning Lisa Gutkin of the Klezmatics and Fergal Scahill of WeWeBanjo 3. Elsewhere Danny Erker (Jones Street Station) adds stellar mandolin to the track 'Dragonfly's Castle'. It's a joyful genre-busting riot of latin, calypso-tinged folk, Americana and bluegrass.
Live experience in Spain and UK has forged a brand and identity for this multi-national group (two Irishmen, an Englishman and an American) who favour acoustic music, use a  melange of instruments, and reflect diverse influences. After first album Kansas City Out Groove (2018) and their compilation of ukulele-based recordings, Uke Songs By Track Dogs (2019), producer Germán Gutiérrez has packed punch, grandeur and world influences into the band sound. Confident and accomplished musicianship, abundantly and utterly infectious, they combine the latin exuberance with a fierce folk influence that defies you not to tap a toe or ten. It's been said before, but I echo it: "The playing is outstanding, the harmonies are superb and it's joyful throughout; just give it a listen". Groovy.
www.twitter.com/@TrackDogsMusic
Deborah Rose – The Shining Pathway
This Welsh singer songwriter has worked in both Nashville and Ludlow (Shropshire) to lay down the tracks for this third album, written whilst touring three continents. Tours and collaborations with the likes of Judy Collins, Ralph McTell, Fairport Convention, Eva Cassidy's brother and most recently Boo Hewerdine are evidence of her recognised abilities and have no doubt informed her style and substance. This album has primarily benefited from the influence of writer Mary Gauthier and producer Ben Walsh.
Ten songs, of love, loss and life transformed. Each song has such a deep background, whether interpretation of fable or poem or reflections on her own life stories and spiritual nature. The songs also benefit from collaboration in form and focus. Subtle nuance of celtic, bluegrass, blues and trad folk are mellowed and diluted into a fragile whole. A pure voice, an ethereal sound, a delicate soul and a deep storytelling ethos. Haunting.