David Olney & Anana Kaye – Whispers & Sighs
This final studio album by the late David Olney is a collaboration with Anana Kaye, a young Eastern European breathy, smoky-voiced powerhouse. Olney was an acclaimed songwriter responsible for more than 20 solo albums and songs covered by and/or co-written with the likes of Emmylou Harris, Steve Earle, and Linda Ronstadt, among others. John Hadley contributes to the writing of this album, and there's an impressive array of Nashville musicians and vocalists – notably Olney's long-time musical collaborator and bassist Daniel Seymour and Chris Donohue (Emmylou Harris, Robert Plant and Elvis Costello bassist).
Their pairing creates an organic landscape for the raw intimacy of Americana, from raucous, unapologetic rock anthems like 'Lie to Me, Angel' and 'Last Days of Rome' to sparse, introspective ballads such as 'Tennessee Moon' and the title track. Exploring what it means to be human, Olney and Kaye take turns to present intimate self-portraits, myths and tales of historical fiction, highlighting what we do to cope with our own impermanence. Despite weighty, existentialist themes, the prevailing message is a celebration of human connection, friendship and love. In 2019 Olney said, "We have no idea where the songs come from, but they bring a peace of mind like an old photograph of home. Wherever that may be." Now a posthumous Olney release (shortly after hitting save on the final mixes, the phone rang with news of David's passing), there's a bittersweet ambiance and wholesome vibe. Two artists and their friends poured soul into this album, providing a legacy for David Olney and a showcase for Anana Kaye. Fulfilling.
www.facebook.com/DavidOlneyOfficial
Brigitte DeMayer – Seeker
Originally from California then resident in Nashville as part of Music City's vibrant community of artists and industry folks, her return to California came suddenly but her spirit remains rooted. Wood Brothers' multi-instrumentalist Jano Rix co-writes and produces, as bassist Chris Wood put it "like Sly Stone meets Bob Dylan". Alfreda McCrary (McCrary Sisters) sings backing and harmony; Oliver Wood is on electric guitar and harmony vocals; and Chris Wood shares upright and electric bass contributions with Viktor Krauss. Session players Ted Pecchio (bass), JP Ruggieri and Kris Donegan (guitars) provide solid support.
Seeker wonderfully showcases DeMeyer's versatility as a singer and writer, moving with ease from ethereal to slinky vocal style. Her emotive voice and painterly lyrics combine with Rix's mastery of piano and rhythm to create a soulmate chemistry. DeMeyer says "The best way to make a record feel good is to be really comfortable with the people playing with you. It's all about vibe." And vibe is alive and well on Seeker. See if you hear a rewarding connection to Rickie Lee Jones like I did. Soulful.
www.facebook.com/brigittedemeyer
www.twitter.com/@BrigitteDeMeyer
Annabelle Chvostek – String of Pearls
Annabelle Chvostek, singer-songwriter, multi-instrumentalist, composer for dance and film, co-writer with Bruce Cockburn and formerly in roots trio The Wailin' Jennys, combines her Canadian singer-songwriter tradition and the nostalgia of East European heritage with a long-standing connection to Uruguay (through her Uruguayan spouse) in 6th album String of Pearls. Arranged and co-produced in Montevideo by long-time collaborator, composer and multi-instrumentalist Fernando Rosa, there's some of Uruguay's stellar tango and classical musicians together with, on the Canadian side, long-standing bandmate drummer Tony Spina and members of Toronto's vibrant Gypsy Jazz community. I appreciate the craft and determination of the artist who, in 2015, had an ongoing struggle with severe hearing loss and left ear tinnitus triggered by a feedback blast during a 2008 soundcheck in England. After this she developed her skills in choral arrangement, composition and conducting as evidenced by vocal arrangements on some songs.
What this all creates is a contemporary sound that evokes the grittiness of 1930's tango, vaudeville cabaret and swinging hot jazz in a uniquely diverse cross-cultural, cross-temporal sonic montage. Combining Canadian and Uruguayan songwriting traditions with the nostalgia for eras gone by is a goal for Chvostek . "This tapestry of interweaving cultural histories is very much tied to my own experience growing up in Toronto in an intercultural family, and raising my own daughter in two distinct cultural settings……I think music has the potential to tap into an openness that allows us to listen to new perspectives in unconventional ways, and it is my goal as an artist to think and rethink the ways in which this could be possible." Multi-cultured and cross-generational. That's jazz.
www.facebook.com/AnnabelleChvostek
www.twitter.com/@AnnabelleMusic
Beulah's Boneyard – Songs for the Watchful World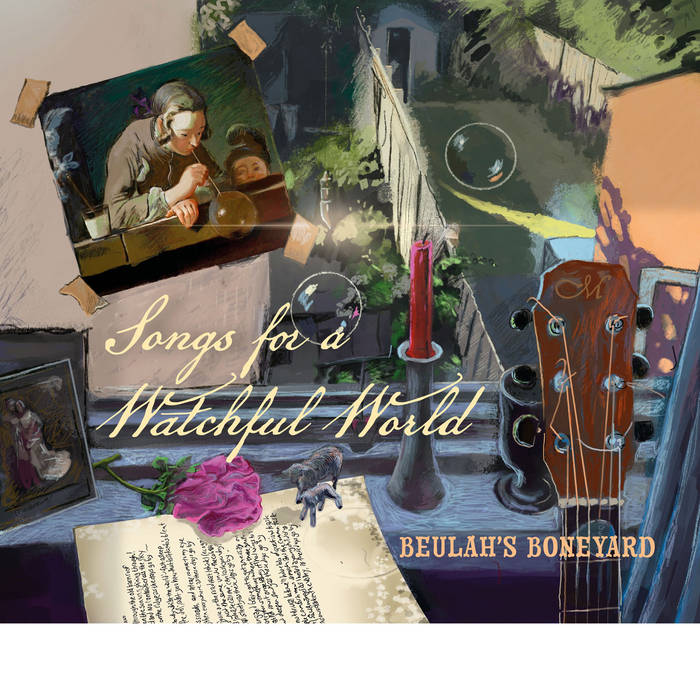 You'll have seen reviews of the Moonbeams previously. Introducing their main songwriter and frontman Jon Avison – who has got together with Martin Beek, Oxford-based artist and lyricist, aided and abetted by a talented group of musicians including Ben Avison (relation), Sam Lawrence, Sam Parkinson and Thom Paisley. The "supergroup" name references William Blake btw. And so a pandemic-influenced collaboration occurred creatively and resourcefully during 2020: "In the turbulent summer of 2020, we found ourselves dazed, bewildered and locked in isolation in Beulah's Boneyard. In our bubble of semi-consciousness, we vowed to never let our experiences be forgotten and solemnly pledged to chronicle our time in the boneyard somehow"
There's a welcome optimism and positivity, as well as a reflective and contemplatory nature. The songwriting craft and talented arranging of instrumentation is noted. There's a pleasing evocation of folk traditions, old English, bluegrass and even Dylan from time to time. There's even a lyrical lilt and hint of a less ascerbic John Dexter Jones. The natural of the birdsong and pastoral instrumentation is used to good advantage, as is the brass-adorning of closer "The Time of Snow" with its message of collaboration. The message of hope and overcoming is welcome. Calming.
https://beulahsboneyard.bandcamp.com/album/songs-for-a-watchful-world
Mari Joyce – Dear Moon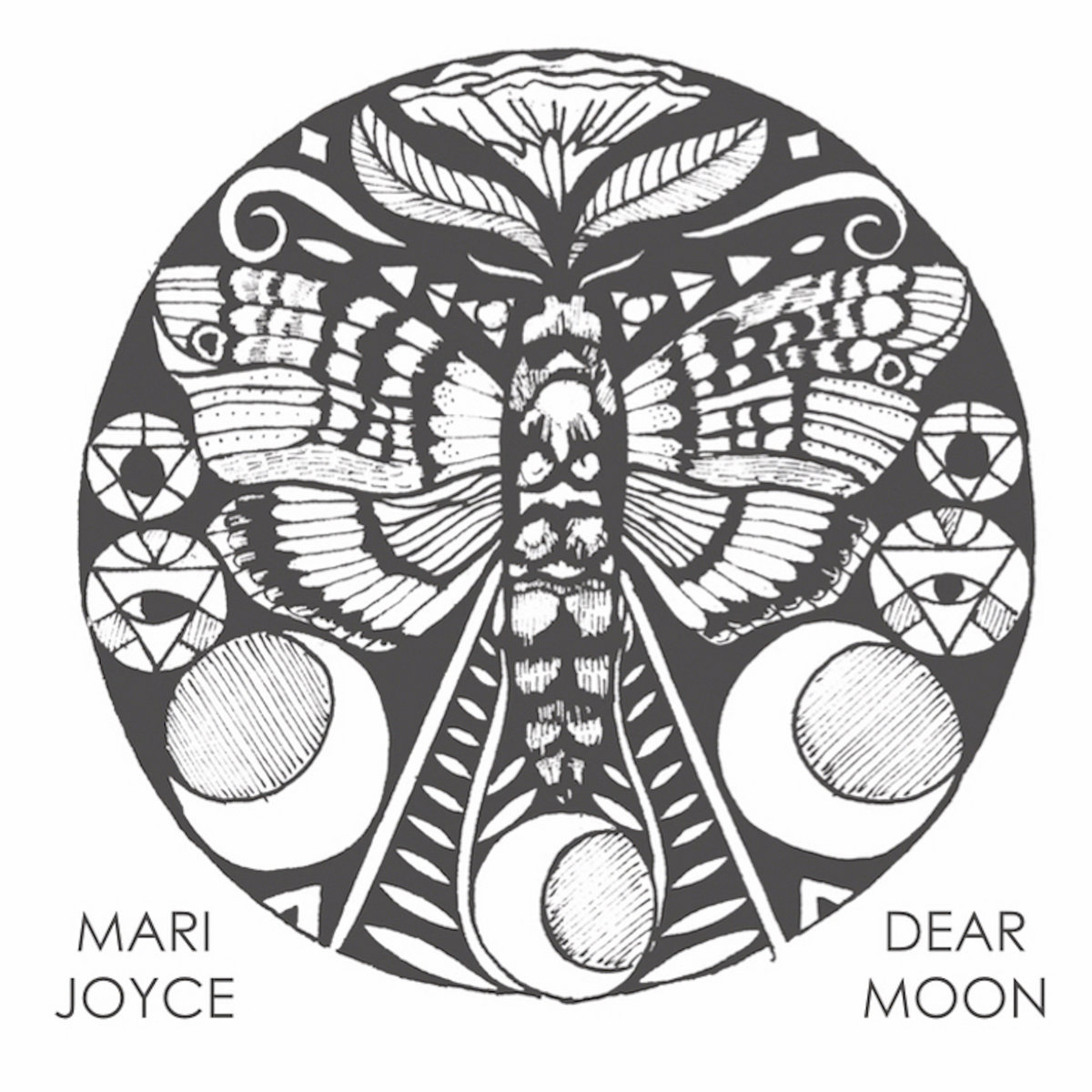 Mari Joyce is a Norwich based songwriter, creating meditative and heartfelt songs with a grounded earthy presence. Sometime playing solo, sometime accompanied by vocalist Johanna Herron, cellist Alex Hobbs, violinist Alex Patterson, and percussionist Iestyn Griffith. This is her debut album, following an EP a number of years ago.
It's a subtle and soulful album, contemplating life cycles, relationships and love in a soft, ephemeral and spiritual way. A time to reflect on our inward and outward life journey. Sympathetic string accompaniment combines with the natural rhythm of cajon, delicate fingerpicked guitar and sweet harmony vocals. Whilst low-fi, it is high in atmosphere. It is evocative and thoughtful, creating deep and thoughtful moodscapes. The dual vocals deserve particular praise. An intense, introvert and acoustic Imogen Heap if you will. It goes to show that you don't need hi-tech, racks of keyboards, flash guitars or walls of drums to create great music. It's lyrically strong, almost poetic with a musical soundscape. Languid.
Jason Ringenberg – Rhinestoned
Using some leftover songs from previous release Stand Tall (2017-18) and following a surge in creativity during 2020's global pandemic and American political turmoil, Ringenberg has produced a crowdfunded album of personal originals and covers. George Bradfute, multi-instrumentalist and producer handles most instruments, with Steve Ebe (Carl Perkins, the Chicks, Marty Stuart) on drums. Fats Kaplin (Jack White, the Judds, Hayes Carll, Tom Russell) on steel guitar and fiddle. Ringenberg's daughters Addie and Camille pitched in on harmony vocals and piano.
His own songs include 'I Rode With Crazy Horse', loosely based on an old Lakota/Oglala legend and 'The Freedom Rides Weren't Free' about the Freedom Riders, young Black and white activists who challenged the segregated bus systems in the South during the early 1960s (written right before the major racial unrest in the summer of 2020). Taken all together, this is a record populated by old souls and ghosts, the main song cycle of Rhinestones examining his relationship with a changing Nashville and its role in country music. Cover choices represent different phases of American country music: Carter Family's 'The Storms are on the Ocean', Hank Sr's 'You Win Again', Ozark Mountain Daredevils' 'Time Warp'. Traditional 1800's Easter hymn 'Christ the Lord Is Risen Today', learned after hearing his daughters sing it in their church choir. Initially a solo effort, crafted by team and supported by friends and fans, it becomes a rough and ready, honest and heartfelt effort. Traditional.
www.facebook.com/jasonringenbergmusic