All my birthdays and Christmases at once! A deluxe (pun intended) 16 disc limited edition boxed set of the 1977 live album!! Not only a remaster of the original live album in all its restored glory but Be Bop Deluxe master tapes revealed that multi track tapes of all the shows recorded on the UK tour of 1977 had survived. After digitising and listening through to all of the Rolling Stones mobile unit 24-track tapes it was decided to include each concert in its entirety in this expanded boxed set. 14 CDs of every concert of the Feb & March 1977 tour in their original running order! The concerts were mixed over a period of several months by Stephen W. Tayler. Plus there's a John Peel Session from Jan 1977, and a DVD of the Star Rider in Concert film first screened in 1977 and now released for the first time. Plus plus a lavish book including unseen photos, postcards and a replica poster, oh and a new essay by Bill.
My cup runneth over!
This legendary live album was released in July 1977 and here's a fact I never knew: it was the band's most successful album, peaking at number 10 in the UK charts. The album came after two stunning albums, and here's something else I didn't realise – there was only thirteen months between Sunburst Finish and Modern Music, two very different albums, both at least getting into the top twenty UK album charts. Live! In the Air Age would be the band's only live record, but what a statement and documentary it was of a superb live and studio band. It was recorded over a series of dates in the UK in February and March 1977 on the Rolling Stones mobile unit with John Leckie, engineer and co-producer of the aforementioned previous two records.
The band's UK tour began in late January and featured the use of projection screens and excerpts from the 1927 German silent film Metropolis, director Fritz Lang's striking science fiction masterpiece. Hence the album cover. Continuing into February, the first concert to be recorded was at the De Montfort Hall in Leicester on the 12th. The following two nights were at the Grand Theatre in Leeds, both captured on tape and saw Wakefield lad Bill Nelson perform to an enthusiastic home audience.
And, a Wakefield lad myself, I was there. The mists of time have eroded my memory of which night, but I remember I was up in the gods, the band a distant sight, but still a stunning performance. I remember Bill announcing a change in tapes while they launched into 'Shine'. And I sang my heart out during 'Terminal Street'. And I relished the improvisational virtuoso performances of their then signature live track 'Blazing Apostles'.
So to be able to listen to a remastered album to replace my well worn vinyl and dull CD is awesome. And then to hear the actual gig I was at is even more awesome! But back then I knew nothing of the backstage and tour dramas……
On 15th February 1977, travelling post-Leeds gig down to a future concert in Bristol, Bill Nelson and John Leckie were in a car accident which resulted in them being hospitalised at Huddersfield Infirmary. Recovery was quick, but concerts were postponed until the end of March. The rearranged tour continued with two concerts at Hammersmith Odeon in London on March 25th and 26th 1977. It was like they'd never had a break. Further shows followed in Bristol and Bournemouth on the 27th and 28th March respectively.
Bill Nelson and John Leckie then selected the best performances for mixing at Abbey Road and Advision studios in London and Live in the Air Age! was released in July 1977.
"Life in the Air Age" is a great opening track both for an album and a gig, showcasing Nelson's guitar and songwriting ability from the off. And also from the off, the sound of this remastered version is awesome, so clear and Nelson's guitar and Clarks's keys so crisp, with rhythm section equally clear in the mix. Often hard to remember this was live.
Some bands focus on album recreation, others on improvisation. This band could do both. "Ships in the Night" is faster and catchier, with the sax solo section replaced by succinct guitar and electric piano. "Piece of Mine", one of Nelson's many wordplays, positively encourages some loose blues-ness yet displays the band's tightness at the same time, as does the raunchy rock-n-roll rollercoaster of "Fair Exchange" with its classic pinpoint ending. This band were both offering up the highest standard of live performance and contagious enjoyment of the music. And so to the instrumental groove of the aforementioned "Shine". A number which gave fullest opportunity for their improvisational side. A solid groove, an inspired guitar riff, a swooping and soaring instrumental featuring the superb electric piano of Clark, the stunning guitar of Nelson, but equally cleverly underpinned by the bass of Tumahai and tight drumming of Fox. Just over nine minutes of excellent musicianship worthy of the tumultuous applause it receives.
"Sister Seagull" and "Maid in Heaven" are simply perfect. Years later, I remain astonished at just how good Bill's solos are. "Mill Street Junction" rocks. But then comes "Adventures in a Yorkshire Landscape" and what can I say…..?! I heard the live version before the album as it happens, and this version reveals the band's ability to develop a song to the nth degree – revealing the improvisational side of Be Bop Deluxe which made each concert unique. More of that later. This original album version? Perfect! And then you get the crowd pleaser "Blazing Apostles" with Clark giving Lord a run for his organ money. A complete album if ever there was one.
And on this boxed set, you have the additional John Peel session of afore-mentioned "Mill Street….." and "Adventures….." with a track called "Still Shining" (the improvisational "Shine" again) with twin guitar for good measure. All recorded in the January before the gigs. Honing their craft in time for the tour "Adventures…" in particular is a wonderfully warm and smooth version. Further examples of their tightness, their improvisational skills, and their talent. So let's take a look at the individual gigs and pick out any particular notable elements…..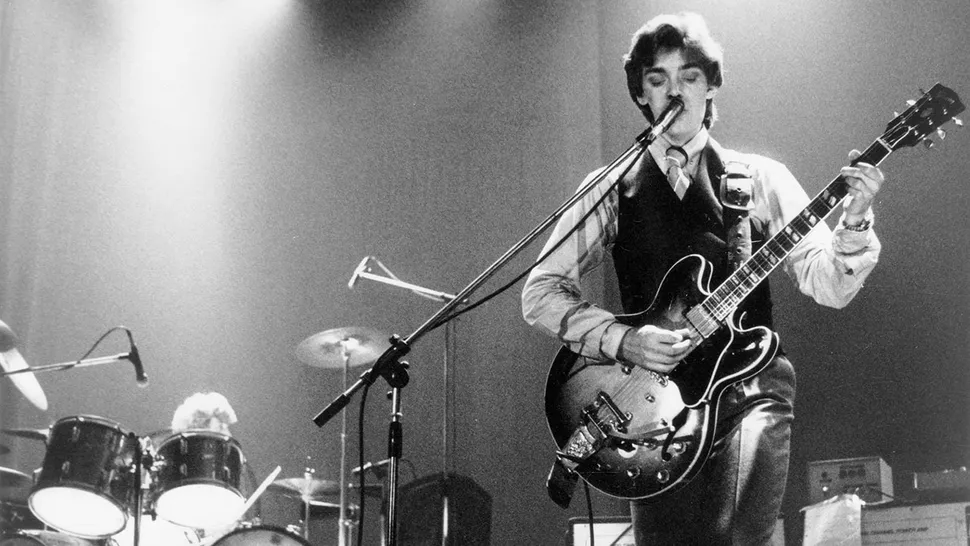 First up: Leicester 12th Feb 1977
Firstly, it's nice to hear the intro music used at the beginning of the concert – only 44 years since I heard that – yikes! This is a wonderfully warm and up close recording of the band in top form. And, for this particular recording, let me just focus on "Swansong" from Futurama. What an epic. The grand finale of the studio album, back in the day we'd call it progressive. It's such a sweeping musical statement that ebbs and flows. If I tell you the album was produced by Roy Thomas Baker in 1975, you'll know where my mind is heading. Live, it is simply awesome, effortlessly played and frankly worth the £2 ticket fee alone. To think I'd forgotten that they played it. Shame on me! There are more delights on the album, but let's savour them during other concert dates…..
Next: Leeds 13th Feb 1997
Secondly, it is nice to hear Bill's voice – his Yorkshire twang even comes to the fore (!) when he says hello to his family before a deep rendition of "Twilight Capers". But then comes the glorious suite of music from the album they were promoting at the time: "Modern Music". Well over 20 minutes of diverse sections combine into a glorious whole. In the same way as side two of Abbey Road combines into a superb suite of music, so in its own way does this. The opening and ending reprise of title track itself 'Modern Music' bookend the reflective musing of 'Dancing in the Moonlight', the descending mood of 'Honeymoon on Mars', the pulsing 'Lost in the Neon World' which launches into the jazz-funk of 'Dance of the Uncle Sam Humanoids'. All in one go – totally satisfying, totally live – and bear in mind done without any safety net of modern technology. An exhausting listen, and from Bill's notes a similar experience for him. And they go straight into the rock of 'Forbidden Lovers' followed by the glorious transition to the low-key anthemic closer 'Terminal Street' with its additional lengthy singalong! Now, was I singing along on the 13th or 15th………..just where did I put that ticket?
Still in Leeds 15th Feb 1977
Thirdly, I have been wrong for all these years, thinking the live album was recorded solely in Leeds, as Bill tells us the whole tour is being recorded. I can't have been listening properly….. So we come to a gob-smacking 18 minute version of 'Blazing Apostles'. The original song itself packs so much into it's original format with such a variety of riffs, breaks and clever lyrical nuances. But live, four minutes in it launches into the trademark, stunning, extended improvisational groove we all remember (well I do!). They then let rip. Clark is exceptional on Hammond and synth, Tumahai and Fox provide such tight rhythmic support, and Nelson simply reminds us of his immense guitar talent as he goes off into the self-indulgent yet entertaining land of noodle. And I was there (I think….).
Hammersmith 25th March 1977
Fourthly, the consistency is amazing. There are no "off" nights. Nelson can either replicate classic solos where appropriate (check out 'Sister Seagull') or go "off on one", riffing and improvising where the feeling takes him, usually towards the end of the set, and of course on 'Shine'. The setlists themselves rarely differ, sometime with or without encore. And how great to hear the late Charlie Tumahai entertaining the audience while Bill deals with a guitar buzz. A great talent, sadly missed.
Still in Hammersmith 26th March 1977
Fifth, nothing changes. Or does it. Listen to Nelson's oblique reference to government and law interference just before he introduces the Modern Music Suite. No change there. But then again, maybe it gives an added edge, as Terminal Street certainly has an added bite and Nelson launches off onto a thoughtfully intense solo showing great mastery of his guitar sound after the usual audience participation section.
Bristol 27th March 1977
Sixth. There are perceptible differences in each recording. Although the band often produced note perfect replicas, some of the recordings have clear differences. For example 'Ships in the Night' vocals seem more muffled and lower in the mix. And actually, if you wanted to be picky, Bill slightly fluffs one tiny note. But so what. That's what live performances are about!
Bournemouth 28th March 1977
As a punter, you just rock up to a gig without thought for the journey and hard work a band has taken to perform at the gig you're watching. Four gigs, four consecutive nights. London to Bristol to Bournemouth. And the set they unleash is just as pulsating and perfect as on the first night. Consumate professionals.
So, in conclusion, a consumate and perfect release showcasing a tremendous studio and live band, as tight as a proverbial duck's bottom, yet freewheeling spirited and inventive musicians. Led by a genius.
Band:
Bill Nelson – vocals, guitars
Simon Fox – drums, pipe dreams
Charlie Tumahai – bass, vocals
Andy Clark – keys, vocals
Mick Close – Rhythm Guitar (Star Rider concert)
Tracklisting (Remastered Album)
Life in the Air Age
Ships in the Night
Piece of Mine
Fair Exchange
Shine
Sister Seagull
Mill Street Junction
Adventures in a Yorkshire Landscape
Blazing Apostles
Still Shining*
Mill Street Junction*
Adventures in a Yorkshire Landscape*
*Radio 1 John Peel Session Jan 1977
Tracklisting (The Concerts)
Introduction – Blimps
Life in the Air Age
Fair Exchange
Piece of Mine
Sister Seagull
Mill Street Junction
Ships in the Night
Swansong
Maid in Heaven
Shine
Adventures in a Yorkshire Landscape
Bill Nelson Introduction
Twilight Capers
Modern Music Suite
Forbidden Lovers
Terminal Street
Blazing Apostles
Tracklisting (Star Rider Concert)
Fair Exchange
Ships in the Night
Maid in Heaven
Bring Back the Spark
Blazing Apostles
Be Bop Deluxe online:
https://www.facebook.com/BeBopDeluxe/
https://www.cherryred.co.uk/product/be-bop-deluxe-live-in-the-air-age-15cd-1dvd-limited-edition-box-set/