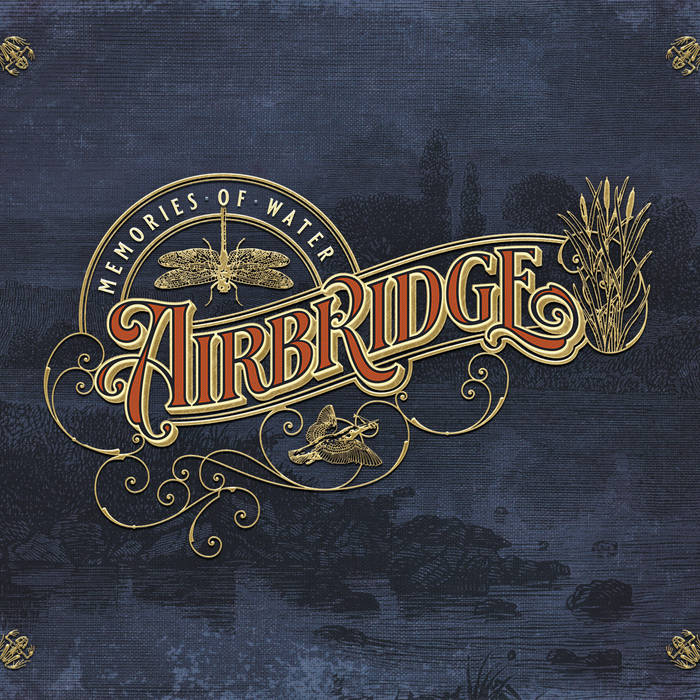 When Airbridge released their debut album way back in 1983 they could not have imagined that it would take some 38 years for the follow up album to appear. In those early days they were part of a burgeoning new Prog scene touring and playing prestigious venues such as the Marquee. A second album was planned but by the mid 80s the band had broken up, 2 band members form the band La Host, the others quietly disappearing into the ether. What if…..?
And then, out of the blue, in 2013 they returned with an ep appropriately titled 'Return'. Asking themselves what if, an album was paramount in their minds and as they played a select few concerts in Norwich and Europe, but sadly original bassist Sean Godfrey developed health problems and had to step down from the band. Another delay. But Sean is still there in spirit.
Now essentially a duo of original main songwriter, vocalist, guitar, keyboard and bassist Lorenzo Bedini, and the band's former sound technician turned drummer, percussionist, guitar and bass man Dave Dowdeswell-Allaway, they are augmented on this album by Jason Crompton on keyboards and trumpet, and Flautist Maddalena Pastorelli.
Jason studied piano at universities in New York and Michigan, while Maddalena studied the history of music and arts in Siena.
They then spent 7 years in Ramallah in Palestine teaching music and playing concerts before moving to Italy to teach and farm.
What an eclectic mix!
With Lorenzo and Dave being separated by not only the pandemic but by country of domicile (Lorenzo moved back to his native Italy in 2015), files began to be exchanged back and forth and the painstaking process of assembling an album began…….
The album opens with 'Fanfare To The Uncommon Worm' with bells ringing out and sustained and reversed guitars leading us into string synths and choral voices and a uplifting melody. I get a sense of good old Canterbury and a slight psychedelic influence. If I was to be picky, they're possibly a little kitchen sink combined with slightly muddy production. But I'm listening on bandcamp, and may not have the best version. And anyway, regardless, it is delightfully retro. 'What Was (And What Will Come)' seeks to remind us of the importance of companionship and friendship in a life that is all too short. So it is good to reflect and remember.
'Canterbury Kate' sees Dave reflecting nostalgically upon his first love and misspent youth, making reference to past musical through mention of Caravan's 'In The Land Of Grey And Pink' and Pink Floyd's 'Granchester Meadows'. Which backs up my earlier references – eh?! Some excellent bass, keys and twelve string work, and a little sense of Renaissance somehow.
Flutes on 'New England' herald in an uplifting tune that lyrically reflects Lorenzo's visit to Massachusetts, New England. As much a state of mind and a code of conduct as a place. A very well constructed song, nicely structured, and cleverly played, with Lorenzo's soaring solo to conclusion. 'Where Shadows' seeks to create an eerie and atmospheric background to it's haunting tale.
For contrast, 'Utter Nonsense' is Lewis Carroll meets Vivian Stanshall, a series of nonsensical characters in a nonsensical yet seriously dreamy, multitracked vocal song. 'The Buddha Song (I've Got One On My Head)' is rather Anthony Phillips, Dave exploring his fascination with translated Japanese poems and transposed into song, closing with sound effects. On 'Piggy With A Pen' Lorenzo takes aim at greedy, self-seeking journalists and their publish and be damned attitude. A measured yet angry song that Mr Waters would be proud of.  
'Under The Same Moon' explores equality and diversity in a slightly Floydian format of a song, while 'Black Skies' has sweet harmonies that classic Barclay James Harvest would have been proud of. On 'In Memory Of 3' Dave reflects on the lives of 3 people lost to this world, a plaintive song featuring delightful fretless bass, opening up pastorally with strings, flutes and offering up another soaring solo guitar. Album closer 'Middle East' adds that mysterious percussive spice.
More power to their elbow to finally pull it off, get together, overcome circumstances, and release this album. What if they got back together? Now we know. What if it is a bit homespun? What if it is well and truly retro? So what, I say. It's warm and welcoming, fulfilling and fascinating. New music yet nicely familiar. New memories created by the band and enjoyable to all.
Tracklisting
Fanfare to the Uncommon Worm/What Was (and what will come)
Canterbury Kate
New England
Where Shadows
Utter Nonsense
The Buddha Song ("I've got one on my head!")
Piggy with a Pen
Under the Same Moon
Black Skies
In Memory of 3
Middle East
Band
Dave Dowdeswell-Allaway – Drums, vocals, 6&12 string guitars, bass & electric guitars
Maddalena Pastorelli – Flute
Jason Crompton – Keyboards, trumpet
Lorenzo Bedini – Vocals, electric, acoustic & bass guitars, keyboard and guitar synthesisers, harmonica
Band Links
https://airbridgeprog.bandcamp.com/