Malcolm MacWatt – Settler
'Settler' builds on the success of last year's 'Skail' EP, conceived and recorded at home during the first Covid lockdown, MacWatt exploring ties between Scotland and the New World. Recorded under the umbrella of US-based Need To Know Music, with vocal contributions from Americana artists Gretchen Peters, Laura Cantrell, Jaimee Harris and British icons Eliza Carthy and Kris Drever, the album acknowledges that music travels from place to place picking up new inflections and nuances wherever it puts down roots.
Scottish songwriter Malcolm MacWatt continues to highlight the Celtic voice in Americana music, weaving Scottish balladry with Appalachian string band influences to tell stories of loss, injustice and arduous journeys. I love his mindset: ""As a multi-instrumentalist, I apply a song-based approach to the arrangements in that I play only what is absolutely necessary. If it doesn't add anything of value to the song, I leave it out. I think if I was working with virtuoso musicians I'd be tempted to let a love for the instruments take precedence. When it is just me I can be more parsimonious!" The album is like his beloved Highlands – beautiful and uplifting, but rugged and harsh. Real.
www.facebook.com/malcolmmacwatt
www.twitter.com/@MalcolmMacWatt
www.instagram.com/malcolm.macwatt
Boo Hewardine – Singularities
Hot on the heels of his recent "Selected
Works" collection comes 'Singularities' with six new recordings made in collaboration with other artists: 'British Summer Time' & 'Hotel Art' (Boo Hewerdine & Vlado Nosal from Bratislava!); 'The Night Is Young' & 'Frozen Light' and 'Time' (Boo Hewerdine & Brian Johnson); 'Lines' & 'No Words' (Boo Hewerdine & Jenny Sturgeon from Shetland – check out her album 'The Living Mountain' btw).
He says: 'During lockdown I started some wonderful songwriting relationships. This release celebrates three of these. Songs written and recorded remotely. We would meet once a week and the songs would come. Although I've missed playing live I have rediscovered the joy of what I love doing the most.' Recordings at home and remote collaborations, with other support such as Gustaf Ljunggren horn arrangement, Chris Pepper on drums – and believe it or not Frozen and Light& Time are bedroom demos deserving of an orchestra. Over the last decade Hewerdine has been producing and collaborating with many young artists, taking musical risks while focusing on the minutiae of life through song. Poignancy and gorgeous melody combine with superb, unfussy song structure. Check out the folky electronica of his work with Jenny. In a word – Perfect.
https://boohewerdine.net/gigs/
Planet Neil – Inside
Planet Neil = Neil Dyer. Previously Post-Punk (Screen 3) with minor John Peel Session success, Mr Dyer has had a backing track of life featuring Abba to punk, Kraftwerk to Numan, and all in-between 80's pop influencing his style. This is his second release, crafted in his home studio in Norwich, and follows a number of singles and extended plays.
Infectious, it approaches alt-pop with the straight bat of poppy production, smart synth hooks and smooth machine beats underpin some smash hit tunes. You're more likely to think of the clever-clever side of commercial electro when you listen to this chap, and there is an art to putting this kind of thing together well. Not what you'd normally find on this roots page! Post-punk alt-electro disco-pop, anyone? Infectious.
https://www.facebook.com/planetneil1/
Dan Walsh – Live at the Floodgate
Recorded just before the first lockdown, this is the first live release by the banjo player, singer and guitarist. Recorded in Stafford, the set includes tracks from his five albums and some new material. An experienced live performer, he's a member of the band Urban Folk Quartet as well as doing session work with the likes of Joss Stone, Imelda May, the Levellers and Seth Lakeman.
Imagine a combination of British, Celtic and American folk music delivered with groove, using his take on clawhammer style banjo. Combine that with lively humour, musical diversions and poignant song, and you have a record of a memorable show. From the new songs, 'Moonshine 68' is a bluegrass flavoured jig and the delightful set that is 'On the Border'. But perhaps of added value are songs not previously recorded, such as 'Jack Crawford' and the awesome slap guitar version of 'You Can Call Me Al' (Paul Simon). Indian raga meets celtic reel in 'Whiplash Reel' and the emotional power of 'Song Always Stays' about the power of music to those with dementia. Lively.
https://www.danwalshbanjo.co.uk/
Mishra – Reclaim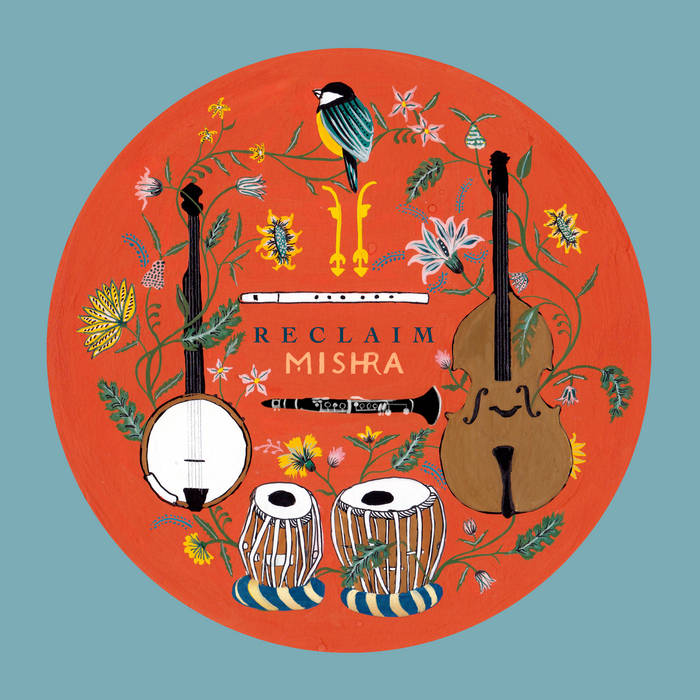 In 2018 Mishra won Cambridge Folk Festival's first ever Christian Raphael prize, the prize money from which they used to record their 2019 debut album The Loft Tapes, live-in-the-room analogue recordings of their uniquely accessible Indo-folk. Like that album, this release was recorded almost entirely live-in-the-room, in a farmhouse in Gloucestershire. The whole-band recordings capture the interplay of their unique instrumental line up, and the energy of their collective improvisation and feel.
This is a joyous celebration of music's ability for connection. Infectious tabla grooves underpin songs that talk of overcoming hardship, whilst soaring whistle instrumentals capture the energy of an Irish tunes session, and other, more reflective songs evoke the space and stillness of an Indian classical performance. In my 2020 review of their debut, I referenced the cosmopolitan sound of Afro Celt Sound System as a genre-busting comparison, albeit Mishra are a supremely natural mix of folk, indian tabla music and hints of jazz and bluegrass. And what I said last time still stands: a spicy, mystical mix of the flavours and ingredients of four different continents…..a sumptuous aural feast. Still tasty.
https://mishramusic.bandcamp.com/album/reclaim
Louis de Bernieres – Despatches
This home recording is a double, guests including Beth Porter, Selina Hawker and David Booth, the latter recording and mixing the album. His musical career began with banjo ukelele, moved into guitars, learning to play folk and ragtime, baroque and classical, then flamenco. He's one who can make sense of anything with frets and strings, and has learned to play several woodwind instruments. Sadly impacted by focal dystonia in his right hand, he is influenced by Bach, Beethoven and world music.
With a youth filled with singer songwriters like Leonard Cohen, Tom Paxton, Donovan, Paul Simon, Ralph McTell and Bob Dylan, his songs are poetic stories. A background of minor bands way back when, his confidence in public performance has only come recently, with the accompanying imposter syndrome. It's not bad having a second bow to your literary career by being able to sideline with music? The influences listed above are very relevant when you listen to his music, and add to that songstrels such as Jacques Brel. And by the way, yes he is the writer of Captain Corelli's Mandolin. Simply basic. Indulgent.
https/louisdebernieresofficial.com
Tom Gregory (with the Dust & Mischief Band) – Rejoiced Much
Tom has folk dancing parents and been dancing since he could walk, joining his first ceilidh band at the age of 12. A ceilidh caller with his own ceilidh band, iFolk, Tom is a busy drummer and percussionist working with numerous bands and artists, particularly swing and hip-hop, and runs Latin big band The Explosive Boogaloo Band. He is well known as a world percussion facilitator, having achieved Guinness records for both the World's Largest Samba Band and World's Largest Drum Lesson. Tom dances with Winchester Morris Men!
Tom is also an accomplished folk singer and in 2021 he recorded this first album as a singer, Rejoiced Much. So we get a collection of carols, wassails and other winter songs with exciting, folk-infused arrangements. The arrangements remain true but add extra verve. Guitars provide the backbone, with fiddle melody lines, box accompaniment and robust vocals atop. SO if you were looking for a percussive album, you're in the wrong place. For an uplifting, assured and engaging album, you're in the right place. I like new takes on old traditions. Merry Christmas!