Kate Green – A Dark Carnival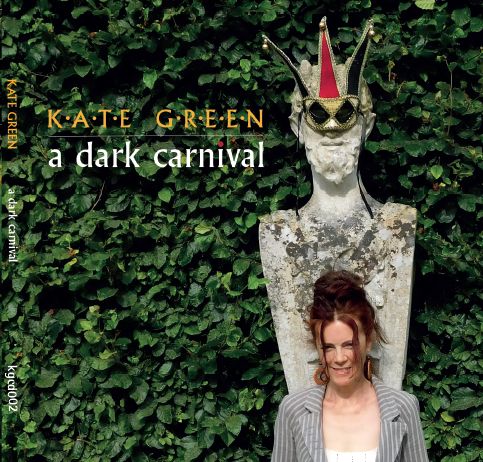 14 years! That's how long since South Yorkshire's Kate Green's first and last release, her focus during that time being a frontline job in mental health. Thank you Kate. She returns with a cocktail of traditional and contemporary material, five self-penned songs amongst them. Opener 'Lady Diamond' is a traditional North-East ballad, percussive and mandola-driven. Kate pens her own swaying samba rhythms and vocal swoops in 'Renegades (Of Love And Rage)' the fingerpicked 'Ferodo Bridges' is a recollection of her childhood, the Sandy Denny-like 'Maddy's Leaving' the slow blues waltz ballad that is 'Mi Amigo' and 'Reclaim the Light' accompanied for the most by just the drone of Michael Doonan's uillean pipes.
But Kate respects tradition, as evidenced by the strummed sway of Robert Burns' Banks and Braes and sturdy, slow fiddle and mandolin march of 'Bows of London'. Then the chain gang rhythm of Memphis Minnie's much-covered folk-blues classic 'When The Levee Breaks' (yup, that one). And there's the sparse sounding lullaby 'Fine Horseman' (Lal Waterson). Unaccompanied, she sings Peter Bellamy's setting of a Rudyard Kipling poem (Cuckoo Song) and closes with a ringing strummed acoustic guitar, mandolin, piano and steady marching beat arrangement of the Caribbean sea shanty 'Shallow Brown'. Welcome!
https://kategreenmusic.com/home
Bobby Allison & Gerry Spehar – Delta Man
Bobby Allison was born in Levelland, Texas and grew up in Roswell, New Mexico. He cut his teeth on country music with his teenage mom Norma on her West Texas radio and stage shows. Gerry Spehar is from Crested Butte, Colorado, first guitar at 13, writing songs, absorbing Mississippi John Hurt finger style guitar and drinking in everyone from Haggard to Hendrix. Two old friends who lived the troubadour wild life in 70s Colorado and the ambitious songwriter scramble in the Nashville 80s. Delta Man is their legacy.
This album showcases their lifetime of music, friends since 1981. 'Just Relax', 'Bubba Billy Boom Boom and Me', 'Baby's Got The Blues' and 'The Good Life' came out of early basement sessions. 'The Good Life' and 'Train Train Train' are the songs that got them to the National Finals at The Grand Ole Opry in 1985. Even if performances stopped, songwriting didn't, and 'Kinda Like Love', 'Bite The Bullet', 'Baby's Got The Blues', 'River', 'Bubba Billy Boom Boom and Me', 'The Good Life' and 'Train, Train, Train' come out of late 90's sessions. You get the picture. Delta Man is special blend of talents. It's four decades of brotherhood. It is Bobby Allison and Gerry Spehar personified. Country!
Sean Taylor – The Beat Goes On
Recorded in London and in Austin, Texas, the eleven songs include ten written entirely by Sean plus an interpretation of a poem by the American laureate, Robert Frost. Produced by Mark Hallman, Sean's voice, guitar and piano are front and centre. 'It's Always Love' features Michael Buckley's soprano saxophone, 'Lament for Dead' has Brian Standefer on cello.
The 'Beat Goes On' offers light against darkness, with themes of love, beauty, hope and nature opposing sadness, loss, fear, and hurt. Drawing on blues, soul, folk, jazz, Americana, and Roots music, Sean's work highlights his love of poetry and the poetic, and showcases his guitar and piano skills. Together with strong production, this is a wide-ranging album that benefits from different influences and encompasses some great sounds. Broad.
https://www.seantaylorsongs.com/
Harley Kimbro Lewis – Harley Kimbro Lewis
From Knoxville to Nashville via Hertfordshire, Martin Harley, Daniel Kimbro & Sam Lewis collaborate for the first time. Produced at Wow & Flutter Studios, East Nashville the old-fashioned way – writing songs in the morning and rolling the tape in the afternoon – the album highlights Daniel's Appalachia roots, Sam's Nashville tones and Martin's travelling riverside blues.
Martin Harley has eight roots & blues albums to date. Raised on American Roots music in and around Appalachia, Daniel Kimbro is a double Grammy-nominated musician with numerous recording credits and touring appearances. Nashville-based singer-songwriter Sam Lewis has collaborated with many, toured for decades and is often labelled with the word 'soulful' and a feel-good social commentary style. It's an album where ego, if and where present, is channeled to boost creativity and improve performance. But it is also a place where soulmates combine to give heart and soul to a worthy project, presenting a slow cooked, laid-back album reminiscent of an early American songbook, or put simply, acoustic Americana at its finest. Rich.
www.instagram.com/harleykimbrolewis
www.facebook.com/harleykimbrolewismusic
www.twitter.com/@samlewistunes
Ali Sperry – In Front of Us
Ali Sperry has taken a look back at a time of trauma, racial reckoning and worldwide existential crisis, turned it inwards to channel, mirror and
use her creative muse to distil those cultural currents into a concise precis of an album. Written in Nashville, produced by Jamie Dick and with a plethora of notable musical supporting players, the outstanding element remains the purity, strength and sheer force of Sperry's voice. Less about americana and folk, you get an essence of Fleetwood Mac and Eagles, and a desire to go on a pleasurable road trip, radio blazing. The performances of said supporting personnel are undoubtedly important yet all work together for the whole, allowing Sperry's voice to take the lead throughout.
Slick, soft-rock, concisely written, cleverly constructed yet nicely simple in format, it is a pleasure on the ear. Yes I know this is a shorter review than most others, but this time I think the music deserves to speak for itself. Take a listen. It's gorgeously lush and richly moorish. It's irresistible. It's comforting and rewarding. It's…… Smooth.
Ben Sures – The Story that Lived Here
This is the 10th acoustic album by the Edmonton, Canada-based songwriter, guitarist and author. His 25-year-deep catalogue is eclectic, from folk, country, jazz to rock'n'roll, and borrowing from blues, Sinti swing and West African guitar. This album was recorded mostly live at Tobacco and Rose Studios, Victoria, British Columbia with Richard Moody (viola, violin, mandolin and vocals), Scott White (upright bass), and Rebecca Campbell added backing vocals and percussion remotely from Toronto.
This storyteller sings heartfelt stories inspired by friends and fans: songs about library ladies, yard sales and dive bars, accidents and grieving; and – because we're in pandemic times – at least one song about the end of the world. It's the acoustic record he always wanted to make since listening to Guy Clark's Old Friends obsessively in the late 80s. It's satisfyingly cohesive and tender bluegrass-tinged with a steady heartbeat. It's poignant and natural-sounding, with nearly every song having a strong yet tender, singalong chorus. Sures is a talented guitar player and wry, clever songwriter whose songs dig into the tender places where laughter meets tears. Natural.