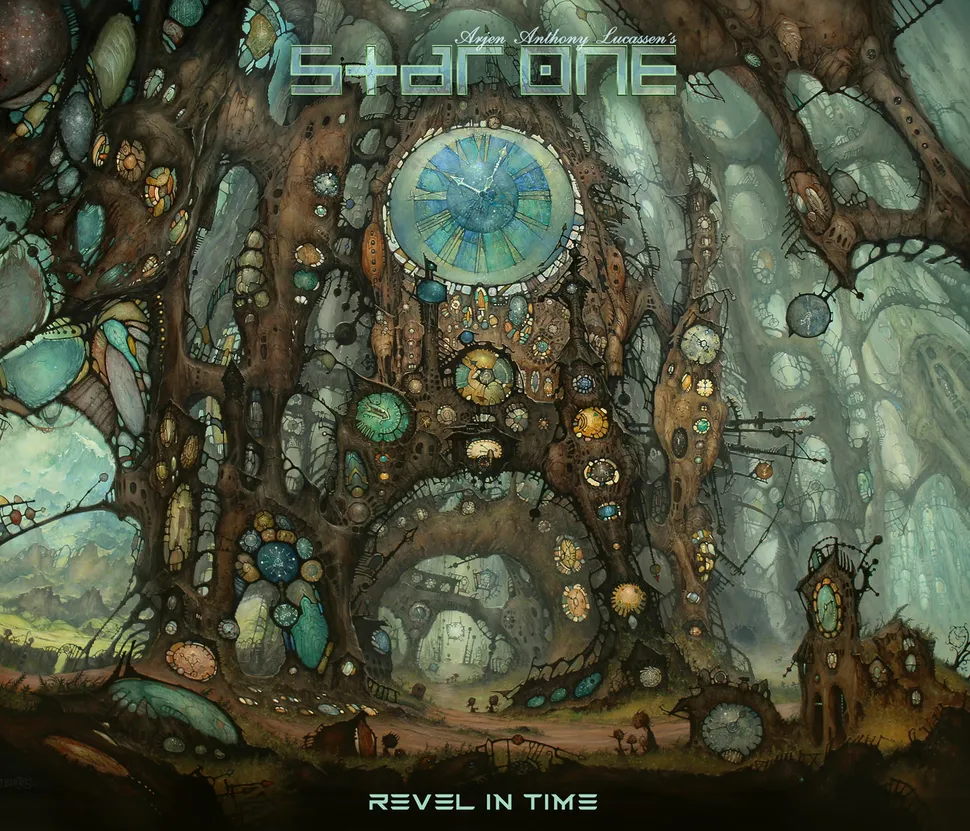 This Star One album arrives over a decade after it's predecessor, 2010's Victims Of The Modern Age and the debut was 20 years ago (really???) with Space Metal. It arrives like a whirlwind with an astonishingly impressive rock workout opener a la Rainbow: "Fate of Man". Brittney slays it (geddit) on vocals and Michael Romeo's guitar solos hit the sweet spot. Lucassen uses a different singer for each song this time round, often more than one, and his choices work well, as evidenced on the second track's crunching, darker, proggier, longer "28 Days (Till the end of time)".
But before we go further – why so long between albums?
"Ayreon is like the mothership for all my music," says Lucassen, "It contains all the different musical styles that I like to listen to and that I love to create. But I'm always looking for challenges and trying to create something new and original as well. Working within a set of constraints forces you to do that, so sometimes I like to limit myself and focus on just one style. For example, with Star One I focus on the metal-side of Ayreon. That means you won't hear the exuberantly liberal use of acoustic instruments that are so often featured on Ayreon albums, like violin, woodwinds, cello, horns, dulcimer, mandolin, etc…"
He's not wrong – what you get on this album is full on rock workouts, soaring and screeching guitars, walls of sound, rumbling bass, tight-ass drums, encompassed in a light sprinkling of synth sound but also some gorgeous retro keys. And his songwriting ability is undiminished, with each track a delicious contrast with the preceding and following one.
"Prescient" has a delicious hint of jaunty Haken for me, and then comes the awesomely retro steely rock anthem "Back from the Past" which features astonishing performances from Jeff Scott Soto and Ron 'Bumblefoot' Thal. Backing singers Marcela Bovio, Irene Jansen and Will Shaw take a bow too.
But before we go even further, why such a range of vocalists?
Blame COVID-19 international travel restrictions, apparently. No interactive parts recorded on Aryen's home turf. Dontcha love modern technology? The four regular Star One singers, Russel Allen, Damian Wilson, Floor Jansen and Dan Swanö rock up with one song each. But then we have such an awesome list! Roy Khan (Conception, ex-Kamelot), Brittney Hayes (Unleash the Archers), Joe Lynn Turner (ex-Rainbow, ex-Deep Purple, ex-Malmsteen), Jeff Scott Soto (Sons of Apollo, ex-Malmsteen), Brandon Yeagley (Crobot), Ross Jennings (Haken), John Cuijpers (Praying Mantis), and Michael Mills (Toehider).
Title track "Revel in Time" has such a Zep opening feel before launching into a symphonic high – wow! We are talking full on classic metal and hard rock territory with sumptuous progressive pressure points which gives Star One a push towards Ayreon territory with a steelier backbone. Riff-riddled, metallic, rich guitar sounds and a steel girder structure of a rhythm section courtesy presumably of Arjen and drum master Ed Warby. Talking of revelling in time, I understand the theme is movie-inspired, drawing from films with the theme of time manipulation (Back to the Future, Groundhog Day etc), each with a focus on the narrative of its respective movie.
Presumably the same pandemic restrictions helped Aryen benefit from such top-notch instrumentalists who contribute awesome guitar and keyboard solos throughout the album: Jens Johansson (Stratovarius), Michael Romeo (Symphony X), Timo Somers (ex-Delain), the aforementioned Bumblefoot (Sons of Apollo, ex- Guns N' Roses), Adrian Vandenberg (ex-Whitesnake), and rock god Steve Vai. And if this still does not convey the bonkers scale of the project, apparently the album comes with a second CD containing alternative versions of all 11 songs, each sung by a different vocalist btw!

"The Year of '41" has a more Purple feel, more gorgeous backing vocals, and a naggingly enticing solid chug, and after the excellent guitar breaks – did those vocals really go that high?! – the song races to an excellent climactic instrumental conclusion, Warby's changing drum styles deserving mention. "Bridge of Life" crunches into life, keyboards more prominent to allow Damien's vocals to demonstrate his dynamic range to good effect. Prog opera is definitely his forte.
Back in the day, Star One was a project aimed at heavier, tighter, shorter self-contained songs, no huge concept other than sci-fi, with a limited number of singers and to a certain extent performers. Not this album. And it is arguably better for it. "Today is Yesterday" sets the heart pounding with its opening intensity, excellent use of supporting keyboards create a full on progressive masterpiece, and the cinematic intensity takes the breath away. "A Hand on the Clock" continues the riff-fest, alternatively swooping and soaring, with the familiar vocals of Floor Jansen able to deliver every emotion, and a far more colourful keyboard-driven song to boot.
It is clear that there is an electric diversity which produces a stark contrast yet provides a genuine cohesion to the album. Which, when you consider the circumstances of the recording and production processes, is no mean feat. "Beyond the Edge of it All" continues with some excellent synth sounds setting the track off before the crunch comes. Prog-metal, metal, power metal, prog rock, classic rock, this fella can carve it out of rock at will. "Lost Children of the Universe" closes the original album, the longest track, an epic given time to create various symphonic soundscapes. Opening with a short amount of time to breathe and reflect on all the concise slabs of metal previously performed, the dynamic onslaught continues. Gothic, operatic and choral, it is a multi-act performance. A mesmerising and powerful album closer.
Talking of time – Arjen, one timely message – don't take so much time between albums. Till next time, Arjen…..after all, you close the album saying "it's not over…"!
Dear listener/reader – make time for this album. Find time for it. Take time to enjoy it. Revel in it. Then go back in time to revisit Star One, Ayreon and Arjen Lucassen's archive.
While you've still got time.
Tracklisting:
1. Fate of Man (5:29)
2. 28 Days (Till the End of Time) (7:21)
3. Prescient (6:34)
4. Back from the Past (4:50)
5. Revel in Time (4:38)
6. The Year of '41 (6:20)
7. Bridge of Life (5:14)
8. Today Is Yesterday (5:46)
9. A Hand on the Clock (5:52)
10. Beyond the Edge of It All (4:52)
11. Lost Children of the Universe (9:46)
Band
– Arjen Anthony Lucassen / Vocals (CD2, #8), Guitars, Bass, Keyboards
– Ed Warby / Drums
Guest/Session Musicians:
– Brittney Slayes / Vocals, Backing Vocals (CD1, #1)
– Sir Russell Allen / Vocals (CD1, #2)
– Michael Mills / Vocals, Backing Vocals (CD1, #3)
– Ross Jennings / Vocals, Backing Vocals (CD1, #3)
– Jeff Scott Soto / Vocals (CD1, #4)
– Brandon Yeagley / Vocals (CD1, #5)
– Joe Lynn Turner / Vocals (CD1, #6)
– Damien Wilson / Vocals (CD1, #7)
– Dan Swanö / Vocals (CD1, #8)
– Floor Jansen / Vocals, Backing Vocals (CD1, #9)
– John "Jaycee" Cuijpers / Vocals (CD1, #10, CD2, #2, #4, #5))
– Roy Khan / Vocals (CD1, #11)
– Marcela Bovio / Vocals (CD2, #1, #9), Backing Vocals
– Will Shaw / Vocals, Backing Vocals (CD2, #3), Vocalization (CD1 & 2, #6)
– Alessandro Del Vecchio / Vocals (CD2, #6), Synthesizer Solo (CD2, #6)
– Wilmer Waarbroek / Vocals (CD2, #7)
– Irene Jansen / Vocals (CD2, #9), Backing Vocals
– Mike Anderson / Vocals (CD2, #10)
– Tony Martin / Vocals (CD2, #11)
– Michael Romeo / Guitar Solo (CD1 & 2, #1)
– Timo Somers / Guitar Solos (CD1 & 2, #2)
– Ron 'Bumblefoot' Thal / Guitar Solo (CD1 & 2, #4)
– Adrian Yanderberg / Guitar Solos (CD1 & 2, #5)
– Joel Hoekstra / Guitar Solo (CD1 & 2, #6)
– Marcel Singor / Guitar Solo (CD1 & 2, #8)
– Steve Vai / Guitar Solo (CD1 & 2, #11)
– Jens Johansson / Synthesizer Solo (CD1, #6)
– Lisa Bella Donna / Moog Synthesizer (CD1 & 2, #8)
– Joost van den Broek / Hammond Solo (CD1 & 2, #9)
– Hellscore Choir / Choir (CD1 & 2, #11)
– Erik van Ittersum / Solina Strings
Internet