Jack Lancaster and Robin Lumley flitted between the jazz and the progressive rock worlds of the 1970s, with Lancaster alongside Mick Abraham in Blodwyn Pig and both Lancaster and Lumley in a band called The Soul Searchers (John Goodsall (guitar), Gary Moore (guitar), Percy Jones (bass) and Bill Bruford (drums)) A small yet impressive world.

Lancaster and Lumley would eventually collaborate with a plethora of guest musicians on a couple of albums: "Peter The Wolf" in 1976 was based on Sergei Prokofiev's works, creating a modern version that was released in five different languages with different narrators for each. And then came this album, also in 1976, a mostly instrumental album (voices incidental), which these days is probably only remembered for featuring several soon to be Brand X members: Lumley, John Goodsall, Percy Jones and Phil Collins. On this album Lumley handled all keyboards, pianos, harmoniums, autoharps and organs whilst Lancaster provided wind instruments including sax (alto, tenor and soprano), flutes (alto, bamboo, glass), violin, panpipes, watergong and all brass arrangements.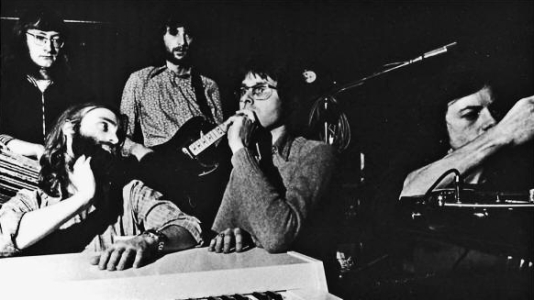 Marscape comes across more like a soundtrack, composed and conceived to mark the landing on Mars of Nasa's Viking 2 Explorer in September of 1976, with the focus more on creating musical textures and ambient atmospheric accompaniments to each track's theme, and a variety ranging from trippy free jazz to bouncy space disco. It's possible the sheer number of musicians enhances and supports the stylistic shifts. You get the sense that this album was pored over in detail to ensure it flows cohesively and yet diversifies creatively.

The theme enables different aspects of the planet to be reflected through diverse rhythms, tones, timbres, tempos, dynamics and time signatures. Part prog rock and part jazz-fusion, it eschews labels, incorporating world music sounds and even adds in a rather out of place ballad. That said, most other tracks are rather more boundary-pushing, from the avant-garde "Take Off" or "Sail On Solar Winds" to the disco groove of "Hopper (Machine for Negotiating the Rough Martian Terrian)", the minimalistic "Phobos And Deimos" or bombastic workout of "Olympus Mons".

I suppose it is inevitable that these kind of albums never made it very far – just think of Gustav Holst's "The Planets" which members of Sky and indeed Mr Wakeman took on back in the day. By nature its a fragmented listen rather than cohesive whole. But a worthy project nevertheless, and one which rightly gets another airing courtesy of the ever impressive Cherry Red Records. Remastered from the original master tapes, fully restored artwork and a very good supporting essay and interview with Lancaster.
Tracklist
1 Take-Off 3:09
2 Sail on Solar Winds 2:48
3 Arrival 1:52
4 Phobos and Deimos 4:49
With a Great Feeling of Love:
5 A) Inner Warmth and Feelings of Affinity 2:46
6 B) Marscape: Outer Cold and Icy Silence 2:14
7 Olympus Mons: 5:22
A) Foothills
B) Memories of Lava-Flows
C) Twenty-Five Kolimeters High
8 Homelight 3:26
9 Hopper 4:22
10 Dust-Storm 3:28
11 Blowholes (The Pipes of Mars) 3:06
12 Realisation 6:13
13 Release 2:19
Bonus tracks single versions of 5 & 9

Line-up/Musicians
Percy Jones – Acoustic Bass, Bass [Fretless], Percussion [Electronic Sequencer], Gong [Water]
Phil Collins – Drums, Percussion
John Goodsall – Electric Guitar, Acoustic Guitar [6-string, 12-string]
Simon Jeffes – Koto
Jack Lancaster – Lyricon, Saxophone [Soprano, Alto, Tenor], Flute [Alto, Bamboo, Glass], Violin, Gong [Water], Panpipes, Arranged By [Brass]
Morris Pert – Percussion
Robin Lumley – Piano [Acoustic], Electric Piano, Harmonium, Synthesizer, Autoharp, Organ [Hammond]
Bernie Frost – Voice