Chris Brain – Bound to Rise
A local lad (Leeds based, Yorkshire born), this album was recorded onto analog tape and produced by Tom Orrell (Koyo, Weirds, Wandering Monster). What you get are ten live performances on record. As his bio says: "Chris Brain renders songs embedded in folk tradition and the pastoral, with a contemporary resonance.".
This is a debut that captures the shoulder-to-shoulder warmth of a live setting. Firmly rooted in place, from the choice of recording location to its lyrical content enveloped in soaring figures from the natural world, Chris Brain renders a work embedded in folk tradition and the pastoral, with a contemporary resonance. Each track arrives in an alternate tuning and uses distinctive fingerpicking patterns which helps project the diversity as he draws inspiration from the outdoors and song writers such as John Martyn and Joni Mitchell with the atmospherics of Nick Drake.
Topette!! – Bourdon
Topette are a two-country collective: Julien Cartonnet, bagpipes and banjo, fiddler James Delarre, accordion Andy Cutting, Tania Buisse on bodhrán and Barn Stradling on bass. Like me, Mr Cuttings may be the only name you recognise. This, their third album was, amazingly, recorded in just 4 days and produced by Joe Garcia.
This is is an all-instrumental album. An eclectic selection. Some band-written tunes and some compositions from legendary French musicians Frédéric Paris and Bernard Blanc, and American 'outsider folk' hero Michael Hurley. The inclusion of both a Cotswold Morris tune and a traditional French folk melody celebrates the group's broad roots. This is music that is either energising, poetic or hypnotic, and a joyous antidote to dispiriting lockdowns and dreary nationalistic parochialism. This is music that sounds as good listened to privately as it no doubt will in the middle of a packed festival venue. They are on tour in June – watch out. They create a sound that is irresistible to ears and feet alike. Addictive.
The Brothers Gillespie – The Merciful Road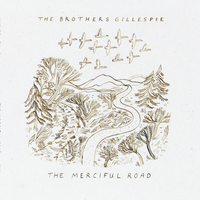 Northumbrian folk troubadours, James and Sam Gillespie, relase their third and first self-recorded album. Some special touches come from guest musicians Jen Hill (producer of Songs of Separation) on double bass, Siannie Moodie on clàrsach (Celtic harp) and Mairead Kerr on piano. Producer and
recording engineer Tim Lane brings his passion for analogue gear brings a rich, vintage magic to the sound that perfectly complements the songs on the album and the duo's musical vision.
At the heart of the album's rootsy sound are the brothers' vocal harmonies and
expressive finger style guitar playing, complimented at times by flourishes of bouzouki, wooden flute, fiddle, gourd banjo and shruti box. This album is
in some ways about finding the thread of love and belonging in a world that seems to be nonetheless unravelling. A collection of songs inspired by the grace of life in troubled times. Their songs often describing relationships with wild places and the experience of finding oneself in a world alive with soul. Natural.
https://thebrothersgillespie.com/home
Graeme Armstrong – You Are Free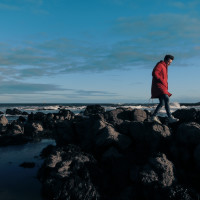 This is the debut of the singer/songwriter who is part of ground-breaking, chart-topping, genre-bending, globetrotting, instantly enthralling Talisk, one of the most in-demand folk-based groups to emerge from Scotland in ages. Produced by Andrea Gobbie, with support from Rachel Newton, Duncan Lyall, Carly Blain, Keir Long, Bevan Morris, Michael Owers, Mattie Foulds and Jen Austin.
A seasoned live performer, he uses this album to explore traditional songs from his childhood, giving them new life with hard hitting synth arrangements and edgy guitar riffs. And then again you get full-on brass arrangements ("My Son David"). He takes on, and makes them his own, songs from Karine Polwart, Michael Marra, Dick Gaughan and Sandy Wright. His exploration gets into the bones of the songs and reflects how he feels about them now. His own songs reflect on becoming a father, the loss of a friend, and the breakdown of relationships. The latter delicate acoustic side provides a surprising intimacy which is welcome but doesn't outstay. Freeing.
https://www.facebook.com/graemearmstrongmusic/
https://www.graemearmstrongmusic.com/
The Slocan Ramblers – Up the Hill and Through the Fog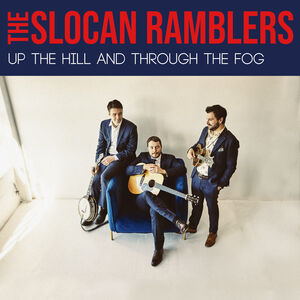 On their latest album, this all-star Canadian roots ensemble turned to producer Chris Stringer (Timber Timbre, New Country Rehab) to move their sound from a live-in-the-studio approach to more complex arrangements. The album somehow channels the past two years of loss into a surprisingly joyous collection of twelve uplifting songs, created and performed despite bandmates Adrian Gross and Darryl Poulsen losing close family members and their bassist stepping back to spend more time at home. They, with songwriter Frank Evan's dusty vocals, have channeled these tumultuous changes into some of their most honest and direct compositions yet.
The album showcases the breadth of their varied influences while staying true to their roots in the rough and tumble bluegrass scene. The songwriting is emotionally raw, the musicianship impeccable, they deliver dizzying instrumentals and meticulously built songs, all the time with a sense of joy and camaraderie. It's bluegrass at its core, but they're blending in other influences to push into new territory. This is roots music without pretension, but with a boundless energy, a craft, a dedication, a flair and an invention that deserves high praise and credit. Creditable!
www.facebook.com/SlocanRamblers
www.twitter.com/@slocanramblers
Mike Stevens – Breathe in the World Breathe out Music
Canadian harmonica – who'd have thought it? Let alone a musician with a penchant for a genre-bending, rules-eschewing approach, and also one reticent about singing! From bluegrass to West African music, country to blues, fiddle tunes to experimental soundscapes, the result is a 53-minute offering that has Stevens sharing the spotlight with several notable guests – including Polly Harris, Cory James Mitchell, Kevin Breit, Jeff Getty, Jesse Wells, Art Hratchian, and Jeff Bird. While the world was dealing with COVID-19, Stevens was also navigating a late-stage Lyme disease diagnosis that saw him experiencing difficulties with walking, cognitive function, and joint pain – to the point of often being unable to hold instruments. "What happened, in a really strange way, is I played differently than I have on any other record because I didn't have much memory", says Stevens, "I was just reacting to what was there in the moment; it wasn't about muscle memory, or licks, or things I'd thought about, or lines, or anything. It was strictly reactionary." It's a very real album, with an intensity but honesty, that gives it a vibrant, personal feel. Yes, personal.
www.facebook.com/mikestevensharp