Paul Walker & Karen Pfeiffer – Auf Wiedersehen, Me Duck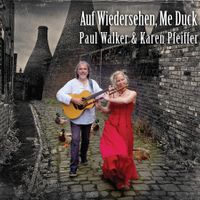 This Anglo-German duo Paul Walker & Karen Pfeiffer hail from Staffordshire, with Karen originally from Stuttgart, Germany. Their tale is that it was there Paul 'discovered' her busking in a city centre park and invited her to perform in England. The two of them have now been playing music together since 2012 with a versatile miscellany of self-penned and imaginatively arranged songs, delivered with guitar, woodwind instrumentation and occasional percussion.
Karen on lead and with carousel accordion opens with the chorus-friendly waltzing 'Our Golden Age', a reflection on the industrial decline of Stoke-on-Trent. Paul gently fickerpicks 'Where I Live', a love song to his home town. They share the poignant homelessness tale 'What If My Pockets Were Empty?'. Their playful side surfaces with hints of Ralph McTell ragtime on 'The Rejected Songwriters' Club'. 'The Answer' reminisces with fingerpicked guitar and Karen on Irish flute then there's the bluesy 'No Time (The Facebook Blues)', the excellent cover of Joan Baez's 'Diamonds and Rust'. There's the brooding full band (alto recorder, fiddle, electric guitar and double bass) of 'Down To Numbers', before two more covers: John Spillane's 'Under That Old Clare Moon' followed by a haunting interpretation of the 1933 protest classic 'Peat Bog Soldiers/Die Moorsoldaten'. It ends with their live "classic", the jokey sing-and-sway-along playful glass in the air 'Auf Wiedersehen, me Duck!' Unifying.
https://paulwalkermusic.co.uk/about-us
Carol Fieldhouse – Continuum
Rooted in folk and early music, Carol discovered songwriting in 2008, her first album (2016) produced by Boo Hewardine. This second album was a deep, long in gestation concept exploring motherhood through song, the stories of inspiring women in the past, present and future, concluding with reflections on the long reach of war (timely) and recognition of what connects us universally.
This second album finds her employing a stellar cast of supporting musicians – Mohammadreza Behjat, Boo Hewardine, Neill MacColl, John McCusker and Chris Pepper (also producer). Her warm and mature voice is comforting and gives her words added resonance. The music is everything you would expect, with such luminaries, and there is depth and breadth in tracks such as 'Beyond The Rising Tide', 'Laura', 'Little Red Scarf', 'Woman Of The Land', 'Daisies', and the album title track of 'Continuum'. All tracks lilt, swing, sway or float with a heartwarming yet reflective signature. Thoughtfully provocative and satisfying. Deep.
http://www.carolfieldhousemusic.com/music
Anna Tam – Hatching Hares
Hatching Hares was written by singer and multi-instrumentalist Anna Tam while coming out of isolation; daring to hope and have a little fun again. The album title is from the fourth verse of 'When I Was A Little Girl': 'I bought myself a little hen and of her I took great care, I set her on a mussel shell and she hatched me out a hare.' This time round she has two special guests – fiddler Geoffrey Irwin and electronic sound artist srah who worked with samples of Anna's singing and playing on the ghost song 'Holland Handkerchief'.
Anna Tam gives traditional British songs a loving personal twist with her clear bright voice and self-accompaniment on a selection of traditional and historical string instruments including the nyckelharpa, viola da gamba, hurdy gurdy, cello, and piano. Her approach to the folk tradition is centered in the song's story and the people who lived them. They interact, grieve, fall in love, go to the fair, sew, spin, steal, joke, die and sober up. Arrangements are stripped back, unique, natural and timeless, as she weaves together a set that takes the audience on a journey through her emotive playing and voice. Life to the full and lively. Personal.
Kevin McSherry – A Place to Stay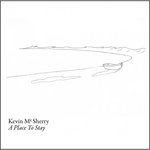 Father, grandfather, singer, guitarist, storyteller, songwriter, fell runner! his interest in music started when he made his first guitar at school during woodwork lessons and taught himself to play, getting together with friends but getting nowhere in a five piece vocal, guitar and banjo folk harmony band called The Travelling People. Since then Kevin has played in many bands and in many genres: blues, country, ceilidh, pop covers but always folk.
Roots music at its best is uncomplicated and musically appealing, lyrically clever and often poignant, pointed or darkly humorous, and this is no exception – well written, produced and played. Nicely varied between light, jazzy, breezy swing (A Place to Stay), gently plaintive (As I was Walking), Dylan-esque (None so Blind), folk-full (England Green or Too Wise to Weep) and nostalgically uplifting (Up into the Hay) or celebratory (We Can Take a Walk). This is expertly constructed, emotionally varied, provocative and perceptive social commentary, and nicely traditional but fully in the modern era. Together.
http://www.kevinmcsherry.co.uk/
The Shackleton Trio – Mousehold
The trio is Georgia Shackleton (fiddle, vocals), Aaren Bennett (guitar) and Nic Zuppardi (mandolin and banjo). Collectively the band draw influence from British, American and Scandinavian folk traditions, whilst Georgia's flair for sourcing largely unsung material from East Anglia keeps the band firmly rooted in their local tradition.
Mousehold is apparently an area of heathland and woodland north-east of Norwich, the perky opening fiddle and mandolin-led track noting there's 'No Road Across Mousehold'. They do ballads from the 1800s 'Crackshots Of Norwich', trad-based numbers, eg the bright and sparkling 'Little Wooden Shoes'. They do whimsy, 'Mandy Lynn' an instrumental dedicated to a bantam chicken and alter their focus from fiddle to banjo at will. 'Hold The Line' is well-described in the insert as a lockdown earworm. Clever guitar and fingerpicked mandolin of 'Wild Man Peter' contrasts with the reworking and rewriting of the Charley Patton 'Bird's Nest Bound', translating the original Mississipi Delta blues into a jolly English folk number. Their local focus has a global resonance. They offer captivating songwriting and fiery tunes that combine mandolin, fiddle, guitar and banjo with powerful three part harmonies. Fullsome.
Tamsin Elliot – Frey
This debut solo album from Tamsin Elliott, a Bristol-based folk musician, composer and film-maker, and co-leader of fusion project Solana was recorded by Alex Garden (The Drystones) at Dylan Fowler's Stiwdio Felin Fach. She's supported by numerous artists including Sid Goldsmith (Jimmy Aldridge & Sid Goldsmith, Awake Arise) on cittern and Rowan Rheingans (The Rheingans Sisters, Lady Maisery, Songs of Separation) on violin and brother Rowan Elliott on viola.
The album comprises compositions for her accordion, harp, whistle and voice in a mesmerising conjunction of sonic textures. English folk roots blend with modal and rhythmic echoes of time spent in Egypt (Cold Moon sees her on Celtic lever harp with guest oud player Soufian Saihi and percussionist Ricardo de Noronha), and moments of ambient experimentalism using effects, drones and field recordings. Tamsin explores themes of limbo, pain, healing and acceptance, reflecting on the microcosm of her personal experience of severe illness alongside wider themes of societal disconnection and environmental destruction. With its magnetic sense of tension and release, she communicates a strong message of hope and healing through art and connection. Immersive.