Captain of the Lost Waves – Mysterium Tremendum
This trilogy closer to Hidden Gems Chapter 1 and 2 was made during lockdown, recorded separately. This, and family health issues following a car accident, seem to have given determination to be a testament to much loved music over the decades: musical drama a la Jeff Wayne's War Of The Worlds, Tangerine Dream to Jean Michel Jarre electric ideas, early Genesis/Phillips to 10cc catchiness, the uniqueness of Laurie Anderson through Japan to Talking Heads, the atmosphere of Ennio Morricone to Harold Budd/Brian Eno, folk to songwriter ideals, to sacred chorals with an Ian Anderson-like voice.
This Captain plots his own route; a troubadour, storyteller and free thinking renegade that sets sail on a unique route yet is totally inspired by journeys of yesteryear. He probably deserves a full slot in the main Spirit Rocks review section. This is music for mind and soul, for dreaming, for and sheer audacity. Melodic invention and quirky inspiration meets psychedelic-, neo- and ye olde prog, alt-folk, ambient, pastoral and world. You get it all. And I wish I'd said this: 'Sometimes something comes along that is so completely extraordinary that you just go yep, the Captain is a superstar, truly cinemascopic and epic' – Tom Robinson BBC6 Music. Yep. Captain universal.
Bella Hardy – Love Songs
Tenth album -really? Recorded over just three days, it finds her reconnecting with her formative folk roots with seven traditional numbers she learnt when she first began singing; these are complemented by four self-penned originals, all loosely echoing the album title. She is accompanied by producer Mike Vass on guitars and Tom Gibbs on piano and clarinet with Hardy on fiddle.
The range is astonishing. A quietly atmospheric minimalistic pastoral piano and fiddle tune there, a spare fingerpicked guitar and understated, wistful vocal there, she doesn't just cover songs, she inhabits them. The clarinet comes to the fore in 'Awake Awake' . Old and new stories of shoemakers sent to sea, sweethearts going to war, peniless lovers scorned by parents, spouses digging deep railway tunnels – all told with sensitivity, wisdom and deft musicianship. Those 15 years of experience, and the fact she can pull this quality of album together in 3 days says it all. Wonderful.
Amy Goddard – Rise
Originally from the Merthyr Valley in South Wales and now based in the Portsmouth area, Hampshire, Amy Goddard is a folk artist with a flair for story songs. After spending most of her adult life as a musician and music teacher, Amy also used the change of circumstances caused by the 2020 lockdowns to get back to painting and drawing. This is her fourth album and features performances from Ross Ainslie (whistles, pipe) and Hannah Fisher on fiddle.
Her vocals have been likened to Sandy Denny and Joni Mitchell for their clear, pure and almost fragile sound. As with previous releases, there is a refreshing honesty and ability to write about contemporary social matters as well as personal ones. There is a wise maturity in the music, and a quality of performance and sound that leaves a pleasant warmth, and a desire to revisit the back catalogue.
https://www.amygoddardmusic.co.uk/
Jake Rodrigues – Lucky Spoon
A degree in Performance Arts back at the end of the 80's and a Masters in 2010 on Music and Culture are the academic milestones for a most intriguing and unusual artistic life that is best read by delving into his fascinating website. Current projects such as the "Cream of Tartar Show" (a performance and cabaret by way of music workshop) or "Froggy's Famous Fanclub" give an indication of the character we're talking about. And there's plenty more where that came from.
Whilst not the full-on one man band, what you get on this album is range. Songs of love and mirth mingle with ballads. Banjos, trumpets, ukeleles and accordions fuse styles from Beach Boy Barbershop to old Americana, Floyd to Drake to Beatles. 60's beat, ska, samba, punctured pomp, pop, all played by a modern equivalent of Bert from Mary Poppins. And may I remind you that the best jolly musicians all have to know their instruments and audience well to be able to add their unique magic and colour to the pompous world of music. Lucky Spoon. Lucky us. Entertaining.
https://www.jakerodrigues.com/
Guila Millanta – Woman on the Moon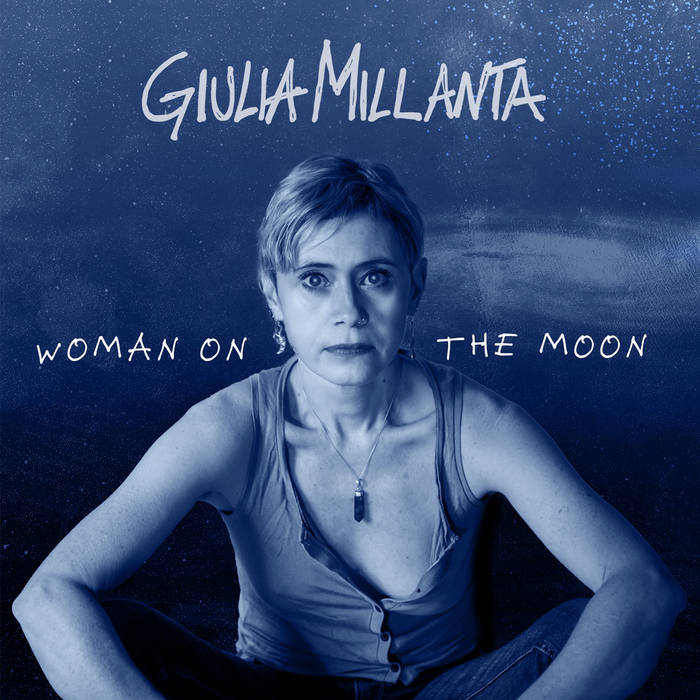 Singer-songwriter Giulia (pronounced Julia) Millanta is a native-born Italian from Florence who now lives in Austin, Texas. This is her eighth solo album, recorded in Austin in 2021. For the third time in a row Giulia teams up with the talented multi-instrumentalist Gabriel Rhodes (Willie Nelson, Emmylou Harris, Rodney Crowell and more) to co-produce. The record was engineered and almost entirely performed by the two of them, with the exception of the drum parts.
She has been called a female Tom Waits and a "deeply evocative singer with a dash of Piaf, a sprinkle of Lady Day, a pinch of Norah Jones and a teaspoon of Madeleine Peyroux." (Mike Greenblatt, Aquarian Weekly). Several distinctly odd instruments were recorded including a wet towel in the bathroom sink, puppet legs against a wooden box, various guitars played with a cello bow and Giulia's naked thighs. Now there's an image….It does come across a bit skiffle-like, and the occasional use of the native language (Vola Via) splits it nicely across genres. The 12 songs are a journey between separation and unity, sanity and madness, mistakes and redemption, through the masculine and feminine sides of us. She's smart, pensive and cool. Deep.
www.facebook.com/julia.millanta
www.twitter.com/@giuliamillanta
Jadea Kelly – Roses
This is her fourth studio album, this one produced by a collection of artists, including Aaron Goldstein (Matt Mays / Daniel Romano), Joel Schwartz (Dionne Taylor), Rich Jacques (Lisa Loeb) and Joe Moralez (Skyler Day). Just as an aside, despite her Americana influence, from 2004-13 she was also the featured vocalist with JUNO award winning metal group Protest the Hero. Oh and she's a contemporary stained glass artist (fairyglassmother). Diverse or what?!
In the 13 original songs, Jadea Kelly's heartstring-tugging, evocative songwriting is perfectly presented, her songs ideally focusing on her excellent vocal performances. I get a slight sense of All About Eve. Songs like 'Driveway' immediately evoke a sense of longing and nostalgia, while 'Any Old Boat' and 'Happy' reflect on love, connection, and a freedom to do whatever brings you joy – themes that run throughout the entire album. Lovely use of reverb gives an ethereal tone, and the songs are gently but firmly placed within the americana/country/songwriter genres. Life affirming.
Rich Jacques – Everything Must Change
As a music producer/songwriter he collaborated with artists such as Goldkimono, Colin Hay, Glen Phillips, Maya Rudolph and Peter Katz. In 2017 Rich won a Grammy for his collaboration with Lisa Loeb on her album Feel What U feel. This EP was mostly written and produced from 2020 to late 2021 right in the heart of the pandemic.
Back in the day seven tracks could be considered near enough an album. Now, quantity trumps quality. But not necessarily in my book. This is quality. It's good to see someone with such a track record for production and songwriting step forward and take the limelight. But not just his own songs, as "The Book of Love" shows – written by Stephin Merritt of the The Magnetic Fields, possibly better known when Peter Gabriel joined that band back in 2001 on stage to sing it, then subsequently swapped the song with "Not One of Us" on the Scratch My Back project. Anyway I digress. Boo Hewardine or Stephen Duffy meets the Engineers. Delightful.