Steeleye Span are still one of the most influential names in British roots music. Pioneers of folk-rock, they took folk music out of its niche, gave it a good shake up and toured the life out of it. Or should that be toured fresh life into it. Members? Members have come and gone over the years, but they remain a revolutionary institution in British music and revelationary national treasures!
For those that don't know, Steeleye Span formed in 1969 with the intention to play folk music in a contemporary, electric band format. Taking their name from the song Horkstow Grange (how many never knew that?), their debut album "Hark! The Village Wait" set out their stall. It was also the catalyst for a growth in the vibrancy of folk music, with various members moving on: Ashley Hutchings leaving to form The Albion Band, followed shortly afterwards by the tour de force that is Martin Carthy. And so the "classic" line up were together: Hart, Prior, Knight, Kemp, Johnson, Pegrum and enjoyed their biggest commercial success, with the acapella Latin carol "Gaudete" giving a Christmas chart entry in 1973 (and countless replays in many compilation albums and airplay every year since) and a No 5 hit in 1975 with the Mike Batt-produced "All Around My Hat".
Needless to say it was around that time, that my interest in the band peaked, and "Fighting for Strangers" remains a disconcerting yet pleasurable listen for me. But I digress…..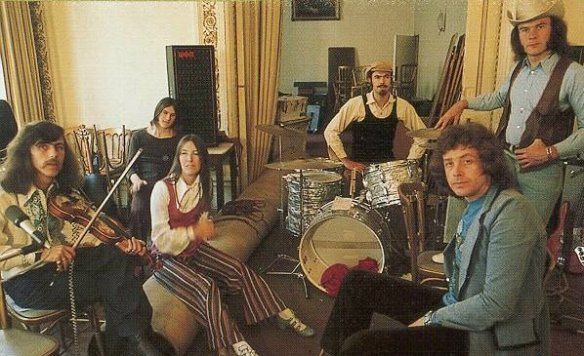 So here's a question. Why did they never release a live album back then? It wasn't as if they didn't tour. This band was forged through its live performances, touring often twice a year. Other bands of the folk ilk like Fairport Convention, Pentangle, Lindisfarne had 'In Concert' albums by late 1974. Genesis, Yes, ELP – they were all at it. By 1977 the band's record label, Chrysalis, released a double greatest hits titled 'Original Masters' just as the band itself was starting to fracture. On that double album, for those wishing to catch up with their output, were two unreleased tracks to attract the completists among us (you know who you are) who have to have every released or unreleased track: so we got 'Bonny Moorhen,' a left over from 'Parcel of Rogues,' sessions. But the other was a live take: 'The Wife Of Usher's Well,' from a gig at the legendary Rainbow Theatre in November 1974. A live recording eh……?
For years, fans sought more information – was there a full live gig recording somewhere buried in some archive? Meantime, over the years, that solitary track appeared
on retrospectives now and again, fueling the speculation. The Chrysalis archive is undoubtedly vast, and the Steeleye Span section most definitely lengthy, so it appears to have taken a lot of dedication and sleuthing to locate several tapes titled 'Steeleye Span At The Rainbow.' Not just one track, but a whole stack of them from November 1974 – some familiar, some which needed a name, some
downright unknown. And, like all good restoration projects, it will have taken so much skill and craft to hone these tapes into a presentable and listenable album. So here it is – at long last. Nearly 50 years ago (yikes!)
What we have on show is Steeleye Span at one of their several peaks, displaying an almost telepathic understanding of each other's strengths and abilities. Folk to the core but undoubtedly focused on rock. Celebrating tradition but forging a new, vibrant and potent musical identity that would resonate down the ages.
By the way, if you are thinking this will be a sleek, slick CD or Spotify product, think again. It's raw yet polished, totally live and in your face yet tightly played, and portrays the band exactly how they were in 1974 and right in the middle of their raucously uplifting quo-ish folk-rock heyday. But there's ever so much more to it than that, as the 7-minute "Demon Lover" story shows with it's tempo changes, proggy breaks, catchy folk melodies, classic Hart vocals and Span multi-part harmonies. Their humour comes out on the record alongside their musical positivity. And so does their instrumental dexterity as gruff guitar riffs against flighty violin on the likes of "Two Magicians", in the intriguingly brief band throwaway "Jim Jam" or when they acknowledge their folk roots in "The Musical Priest/The Silver Spear" or "Irish Jigs…". The fact that they can juxtapose the jaunty "One Misty Moisty Morning" against the dark and complex epic "Long Lankin" says so much about about their capacity and productivity. "Thomas the Rhymer" makes a powerful appearance with all its twists and turns, and we shouldn't forget their vocal prowess, displayed throughout but on full display in the afore-mentioned "Gaudete", even more impressive in its live glory.
This is a band that revelled in their roots and excelled at taking the genre out of its comfort zone. Their awesome ability to perform live comes across loud and clear in this album. Finally, fans and casual listeners alike have a chance to enjoy the experience that was (and likely still is) live Steeleye Span. To really badly paraphrase Horkstow Grange: Steeleye Span's deeds they will be remembered, Span's deeds at the Rainbow Theatre in 1974. And we're all the richer for that opportunity.
I'd like to thank everyone involved in the creation of the LP. CDs are OK, handy, still a good memento, especially if it's kept pristine and some download used on one or other device. But the LP. Well, it's sumptuous, it's something to savour. It's fantastically retro and suits the album perfectly. A great package to celebrate unearthing of a veritable treasure trove. You've done a great job!
My great thanks also to the unbelievably rich source of information that is https://steeleyespanfan.co.uk/ who allowed me to produce some of the above photos.
Tracklisting:
SIDE ONE
Bach Goes To Limerick
The Ups And Downs
Demon Lover
Two Magicians
SIDE TWO
The Wife Of Usher's Well
One Misty Moisty Morning
Long Lankin
Jig Jam
SIDE THREE
The Musical Priest/The Silver Spear
Little Sir Hugh
Thomas The Rhymer
Cam Ye O'er Frae France
SIDE FOUR
Oh, You Beautiful Doll
Gaudete
Irish Jigs (Including Paddy Clancy's)
The Mason's Apron
Band
– Maddy Prior: Vocals
– Tim Hart: Guitar, Vocals
– Peter Knight: Guitar, Keyboards, Strings, Vocals
– Rick Kemp: Bass, Vocals
– Nigel Pegrum: Drums, Percussion
– Bob Johnson: Guitar, Vocals
Internet