Eddi Reader – Light is in the Horizon
This is a new album of previously unreleased recordings left behind from the sessions of her "Vagabond" and "Cavalier" albums, featuring many of Eddi's longtime collaborators (Boo Hewerdine, John Douglas, Alan Kelly, Roy Dodds) and featuring numerous talented musicians.
What sets Eddi apart is the depth and quality of emotional performance and ability connect, no doubt honed and perfected (yep pun intended) over 40 years of performance. Add to that the assimilation of different musical styles from traditional to contemporary, and you find that even what seems to be remnant and left-over has a class and quality of its own.
Rob Heron & the Tea Pad Orchestra
Based in Newcastle but hailing from across the UK, Rob Heron (vocals/guitar) is joined on their 5th release by Ted Harbot (double bass/electric bass), Colin Nicholson (accordion/organ/ piano) Tom Cronin (mandolin/ harmonica/ guitar) and drummer Paul Archibald. Guests include Ben Powling (Viper Time, Howlin' Ric & The Rocketeers), Ruth Lyon(Holy Moly & The Crackers) and the House Of The Black Gardenia brass section on 'The Doctor Told Me'.
Tea Pad albums are pretty much what you expect – their signature sound is a heady blend of Western swing, blues, country, rock & roll and soul, adding new flavours from time to time whether calypso or boogaloo – look forward to the eclectic. So you get more brass this time round, particularly on the New Orleans-flavoured 'The Doctor Told Me'. But you'll enjoy the sax-fuelled R&B stomper 'She Hypnotised Me' or rockabilly harmonica swing of the title-track. The party isn't over. Enjoy it. Eclectically.
www.facebook.com/robheronandtheteapadorchestra
www.twitter.com/@RobHeronTeaPad
Phil Langran – Falling Light
A veteran songwriter, Langan's album features appearances by noted guests: Gustaf Ljunggren on slide guitar, Aaron Catlow on fiddle and Pete Harvey on cello. All but one of the twelve songs is a recent work, largely composed in the twilight zone of necessary isolation. The exception Dunmanus Bay was written in the late 1980s and has proved to be a perennial favourite with audiences and fellow performers.
Langran uses producers Boo Hewerdine and Chris Pepper at Saltwell Studio, the venue for his 2019 album Skywriting. Now I think by now you know I think anything Boo does creates musical magic….Boo joins Phil on acoustic guitar and vocals, adding delicate textures on harmonium, piano, and celeste. The stripped down, subtle production and up close and personal vocals offer a powerful combination of immediacy and slow-burning subtlety. Their melodies instantly take up residence while the lyrics dig emotional depths. The songs and lyrics are masterpieces of succinctness, and work effortlessly on several levels, belying the craftsmanship that has gone into their making. Glorious.
Rusty Shackle – Under a Bloodshot Moon
Rusty Shackle are a five-piece folk-rock band from South Wales going since 2010 and now 5 albums in. Rusty Shackle are: Liam Collins – Vocals, Guitar, Scott McKeon – Fiddle, Banjo, Vocals, Baz Barwick – Guitar, Tenor Guitar, Ryan Williams – Bass Guitar, George Barrell – Drums, Percussion and Alex McConnachie – Guitar. The enforced Covid lockdown clearly left them pent-up and creatively inspired, getting together in an old dairy barn and firing out a wide-ranging collection of folk-rock songs.
Story-tellers, they combine their heartfelt emotion with live powerhouse performances. They draw on influences such as Springsteen, Seth Lakeman, The Decemberists and Arcade Dire, yet delve deep into Celtic music and even classic rock. This is an album full of hope and optimism for all future times, not just their document of a re-gathering together and deepening of connections through the joy of music. If you're in Wales you're blessed, but they do venture out of Wales, so do go see them. You'll come away exhilarated. Uplifting.
Chris Fox – In Plain Sight
Born and raised in Cambridgeshire, Chris is now a singer & songwriter, and has performed alongside a veritable who's who: Fairport Convention, Jim Moray, Trials of Cato, Boo Hewerdine, Lucy Ward, Granny's Attic, Kathryn Roberts & Sean Lakeman…. With his first studio album 'From the Shadows' and the single 'Bird of Paradise' in 2019, this album has gestated since 2020. It features Holly Brandon on fiddle (The Magpies, Painted Sky) and John Parker on Double Bass (Nizlopi, The Willows, Jackie Oates) and was produced and recorded by Dan Wilde at Gladeside Recordings.
With plenty of time on your hands during the lockdown of 2020 you're bound to write yourself and your feelings. So here we have ten original songs that float between Folk and Roots, Americana, Country, Blues and contemporary Transatlantic Folk. His musical influences range from the Mavericks, Paul Simon, John Martyn, Transatlantic Sessions to Willie Nelson and more. He distills it all down into a poised and positive performance. It's down to earth, natural and honest. It's fulfilling and triggers all the right emotions at the right time. You connect. He engages you. It's a rewarding listen. Naturally.
https://www.chrisfoxmusic.org/
Sue Harding – Darkling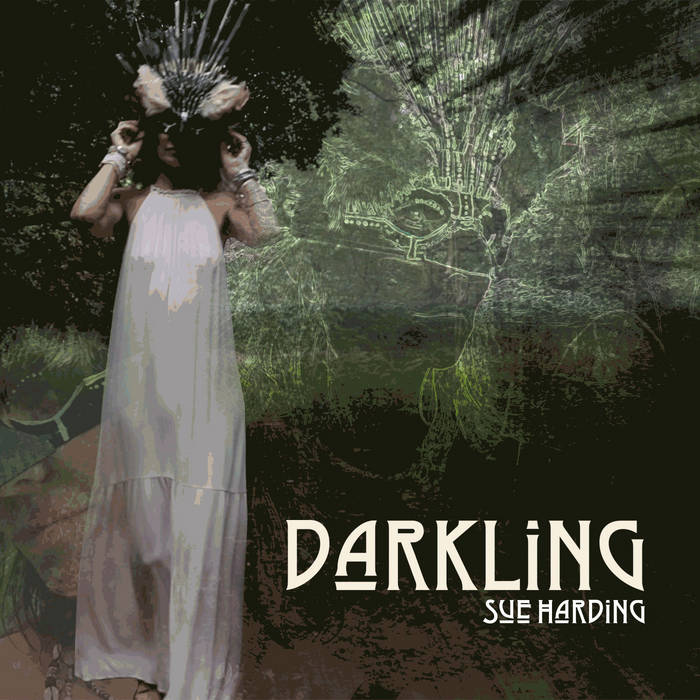 Sue Harding is a singer songwriter and guitar player from Somerset in the UK who released her first album, Flight in 2016 with its slight americana tinge (her background is acoustic, indie and folk. With the twelve self-written tracks featuring Beth Porter on Cello, she is supported by Josh Clark who recorded the album, played percussion, keys, ambient sounds and guitar.
Her voice is one of those personal ones, unique with a heartfelt delivery that creates a haunting beauty. Although a totally different part of the country, I get a bit of the Unthanks natural rawness in her voice. The songs themselves have a slightly retro (60/70) sensibility yet the albums concept is actually rooted in english landscape and Victorian poetry. So what you get is a gentle romanticism in this primarily finger-picked work. But she also ventures onto 50's blues and rock ballads (Old Smokey's Lullaby, The Light of Day) and the contemporary folk feel is grounded in reflective poetic moods. Poetic.
Siskin Quartet – Flight Paths
Two well-established folk music duos, Swedish-English 'Bridget Marsden & Leif Ottosson' and Scottish-Finnish 'Sarah-Jane Summers & Juhani Silvola' link their respective and rich traditions into a debut on the theme of migratory birds. The siskin is a small migratory bird with a beautiful song which can be found in, amongst others, The UK and Scandinavia. The name 'siskin' also links to søsken / syskon', meaning 'sibling'.
Each band-member contributes to the overall sounds, whether scandinavian waltz or polka, celtic reel, dreamy slow airs, or other improvisational sonic soundscape. There's energy in 'Time Flies' and the propulsive 'The Peewit & Siskin Reel', and yet the calm of 'Morning Green', thoughtful 'Midnattsol' or cinematic 'Albatrossi'. Their joint venture is totally intertwined, linked in family alchemy, and creates a heady, rich palette for the world family to enjoy. Evocative.