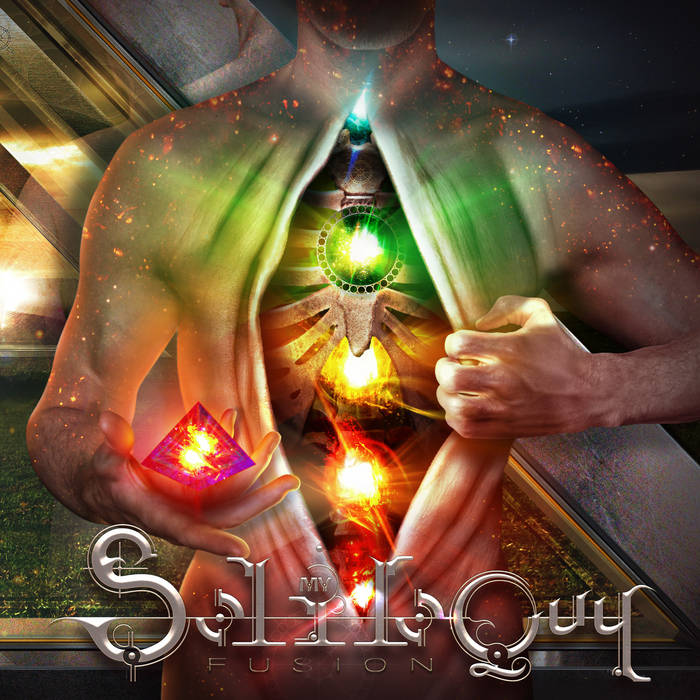 "There has seldom been a more pressing question than the mystery of our own divinity. It has consistently presented humankind with its BIG question, and, in equal measure, big conflict. Both personally and collectively, our species has tried to reach an answer we can all agree on. Are we foundation'd in the eternal? Are we indeed the progeny of a "God" – beings of eternal light and love? – or, are we simply a by-product of crude evolution, crude chemistry and crude biology, granted but a one-way-ticket?"
Now that is a deep concept to think through, and one worthy of a conceptual album. So first off, who or what is My Soliloquy?
Well, My Soliloquy started around 2002, with multi instrumentalist Pete Morten (ex-Threshold, Power Quest, Nightmare World, Metalloid) developing his brand of progressive/alternative rock music, initially releasing EP's then the full length debut 'The Interpreter' in 2013. The USP of My Soliloquy is that Pete writes, records and performs all the instruments himself – on every release – save for the drums. And on this, his 3rd album ('Engines of Gravity' was the 2nd),' Pete's joined by his former Threshold colleague, Johanne James, on drums. Pete also creates all the band's striking artwork and some of the music videos too, apparently. It is produced by the well-renowned Rob Aubrey (Transatlantic, Big Big Train, Spocks Beard, IQ), with another ex-band connection – Threshold's Karl Groom – producing the drum recordings.
Now onto the music which, by the way in summary, is excellent! First let me say that prog metal can become a little one-dimensional, especially if it is all shred and no substance, or all screech and no softness, or all growl and no groove. But that is not the case here.
It comes across as a real labour of love, and devotion to the concept. There is a depth of keyboard/synth sounds that add layers to the album for a start. There is an overriding melodic edge to the music which makes it a deeper and richer album to listen to, with some gorgeous almost Subterranea-IQ melodies (Here in the House of I) and excellent harmonies throughout. Needless to say the drums are flawless, but what else would you expect. Tight and taut, every beat, stroke and crash perfectly suited to the music. The guitar work is equally as you would expect, gritty and crunching when required, soaring solos when expected, and a wall of sound when needed. But overall I will keep coming back to the overall musicality of this album – more than your basic prog-metal by far (listen to the quick rap by drummer Johanne James at one point!) as evidenced by the rather power-balladic Interlocutor, spacey Triunion or piano-led closer Interiority. It's so melodically listenable that you need several listens to get the depths of songwriting and instrumental dexterity out of it, before even getting into its conceptual basis.
My Soliloquy is clearly a full-on and forward-thinking concept. Pete Morten presents a fresh, pathos infused writing project that is a finely woven mix of intricacy and melody. This is a prog metal masterpiece that fans of Fates Warning, Queensryche, yes Threshold and even Ayreon, Devin Townsend or Dream Theater should relish. My thanks to me old mucker Dave Kennedy for pointing me in the direction of this veritable epic.
Tracklisting
1. Triunion (3:00)
2. Kingship (4:43)
3. Mind Storms (5:01)
4. The Great Polarity (3:58)
5. Here in the House of I (6:17)
6. Office of Imaginings (8:49)
7. Interlocutor (3:37)
8. The Space Between Us (5:14)
9. Bury your Dead (7:23)
10. Interiority (6:00)
Band
All songs written, arranged, composed, and performed by Pete Morten. All Drums and Percussion by Johanne James. Guest backing vocals in the rap section of 'Office Of Imaginings' by Johanne James
Recorded at Rare Artist Studios, Lincolnshire, February to September 2020
Drums and Johanne's vocals recorded at Thin Ice Studios Surrey, May 2021
Acoustic Guitars recorded at Aubitt Studios, Southampton, June 2021
All pre-mix and pre-production by Pete Morten 2020/2021
Produced & Mixed by Rob Aubrey & Pete Morten
at Aubitt Studios, 31st May – 11th June 2021
Additional mixing by Rob Aubrey and Pete Morten 8th October 2021
Final mastering by Rob Aubrey, 28th November 2021