Bonfire Radicals – The Space Between
Bonfire Radicals is a zesty 6-piece folk/world band that embraces original and traditional material: Katie Stevens – Clarinet/Kaval/Vocals; Michelle Holloway – Recorders/Flute/ Vocals; Sarah Farmer – 5 string Viola/Vocals; Pete Churchill – Bass/ Vocals; Emma Reading – Guitar; and Ilias Lintzos – Drums. They tout themselves as playing "(un)tradtional folk"
The fiery fiddle tune opener 'Brenda Stubbert's Reel' lets us know we are in for a passionate album. And so it proves with gothic darkness in 'Mary Ashford', a detour through the world of traditional klezmer with 'Sha, Sha, Di Shviger Kumt' and 'Freilacher Nashele', touching on medieval polyphony and offering up a jazz tinged swing. They offer electric eclectisism, and don't just cross boundaries, they trample them with raucous woodwind, delicate vocals, progressive violin, hard hitting bass, psychedelic electric guitar and percussive beats. Their adaptation of influences makes them rightly influential. Raucous!
https://www.bonfireradicals.com/
K B Bayley – Flatlands
Songwriter and lap steel guitar player KB Bayley follows up 2021's Little Thunderstorms, which KB described as being, "all about the stuff that happens to us: big, small, tragic, uplifting, seismic, significant, everyday, heart-breaking." Flatlands is about the aftermath of those events and was produced after a tumultuous period for both KB and for the world as a whole. The idea behind the album is timelessly simple: one man in a room with his guitar. KB says: "I wanted to share these songs and stories in their most raw form, and I wanted to celebrate my love of the Weissenborn guitar as a unique storytelling instrument."
The sound is sparse, confessional, emotional. On this record the solo Weissenborn and KB's unaccompanied voice carry the ten songs (four covers), save for a soft felt piano on one and harmonica by singer-songwriter Gavin Thomas on two. Vintage mics captured the unvarnished sound of the steel on the open-tuned strings, the resonance of the Weissenborn, and KB's intimate vocals. KB is able to create beautiful songs, characters and music that is thoughtful, understated, melodic, evocative and powerful. Intuitive.
www.facebook.com/kbbayleysongs
www.twitter.com/@kbbayleysongs
Lizzy Hardingham – How did we get Here?
She debuted in 2019 at the likes of the Cambridge Folk Festival before having to perform online, and this Help Musicians UK funded album (great cause btw!) explores the relationship between music and mental health. It's produced by Tom Wright, and features guest support from Nancy Kerr, Julie Matthews, Blair Dunlop, Lukas Drinkwater and Kariona Gilmore.
Lizzie's voice is passionate, personal, strong, sensitive and unique, and is perfectly bolstered by well-delivered self-penned songs. Only eight songs, but as we're often telling people, it's all about the quality not the quantity. Mike Harding describes her as having a "truly sublime voice". I won't argue. Sublime.
https://www.lizzyhardingham.com/
Thomas Bull – A Fast Running Train Whistles Down
What it says on the tin! Thomas Bull is joined by banjo player Dan Walsh, double bass player Joe Downward and percussionist Max Revell in this joyous recreation and reimagining of Woody Guthrie songs. "…they talk such sense, and were a great comfort in a time of unprecedented upheaval. There is a timelessness…." so says Thomas and that's no bull.
The title of the album is taken from a chapter of Guthrie's book "Bound for Glory" with an excerpt printed on the inside sleeve. And it's not just a mix of well and less-well known songs, but also original Library of Congress interviews put to background music. Guthrie's poetry and worldview are made all the more visible. An album made possible through lockdown, this is innovative. I'll say it again, it's thoughtful, well-crafted and contemplative. Innovative.
https://thomasbull.bandcamp.com/releases
Brooks Williams & Dan Walsh – Fortune by Design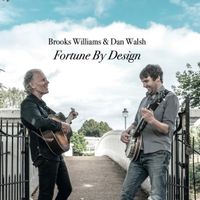 Brooks Williams and Dan Walsh combine talents in a unique take on British and Americana roots music. Their repertoire includes their own songs and tunes, as well as classics from The Blind Boys Of Alabama, Norman Blake, Bessie Smith and Nanci Griffith. Brooks Williams combines old-time fingerpicking, country flat picking and bluesy backbeats on guitar. Dan Walsh plays British, Irish and American folk music on clawhammer style banjo.
These two leading lights in their respective fields bring their charisma and talent (and humour) together for a remarkably coherent duet. Only ten songs, but what a treat. Not only do their instruments blend seamlessly, but so do their vocals. Who knew that transatlantic relationships could be so uplifting, simple yet effective! Both their self-penned tunes and also respectful covers sound so natural, honest and complicatedly simple. How fortunate we are that they designed this album. Uplifting.
https://brookswilliams.com/brooks-williams-dan-walsh
Steve Wallis – Nothing Stays the Same for Long
Folk singer-songwriter Steve Wallis was raised in Byron Bay, Australia, but relocated to Paris, France in 2014. Yet this sounds solid americana. This solo album came around Covid, with Steve and songwriter, producer and multi-instrumentalist Joe Boon travelling to North Devon, spending six weeks recording the album. Vocal harmonies come from Bryony Lewis and Kara McKee. Remote performances included: saxophones by Bruce King; pedal steel by Jon Graboff; pump organ by Dan Walker and fiddle by Morgan Eve Swain. For even more international flavour, it was mastered by Doug Van Sloun in Omaha, Nebraska.
These albums are generally reviewed in the order I listen to them. So this album came as a true pallette-cleanser, with it's simplicity, warmth, honesty, melancholy, and genuine immediacy and clear folk roots. Steve Wallis writes vital, clear eyed folk songs, driven by his shrewd fingerpicked guitar and a disarming mix of wry wit, potent honesty and bittersweet sadness. Some comparisons include Townes Van Zandt, John Prine, or Justin Townes Earle. From the raw and stripped back directness of 'The Wolf', to the sprawling walls of vocals, drums, slide guitars and mellotron on 'Now I Don't' or the hymn-like stillness of 'Nothing Stays The Same Way For Long', Steve's aching voice and stirring lyricism punch through. Direct.
www.facebook.com/stevewallismusic
www.twitter.com/@stevewallisgigs
The Williams Brothers – Memories to Burn (re-release)
The Williams Brothers released three albums on Warner Brothers from 1987-1993. On their second self-titled album, they got a single into the Billboard Hot 100but after their third Warner Brothers album, Harmony Hotel, The Williams Brothers cut ties with the label and went their separate ways. Originally recorded and mixed in 1995 and engineered direct to 2-track by Andrew Williams at his studio, The Williams Brothers are finally ready to release the album 27 years on!
And so, evoking Everly Brothers spirit, Andrew and David, nephews of Andy Williams (and also famous for an appearance on the Patridge Family btw!) sang live with the backdrop of Greg Leisz (Willie Nelson, Eagles) on steel guitar, Don Heffington (Bob Dylan, Emmylou Harris) on drums, and Marvin Etzioni (Lone Justice, Counting Crows) on bass. What you see is what you get here, from the immediate opening of "Tears only run one way" to the close of "Piney Wood Hills". While there's nothing unique here, there has to be admiration for the tightness of the band, the simplicity but effectiveness of the recording, and who isn't a sucker for a well-played steel? Wholesome.
www.facebook.com/regionalrecords