The Trials of Cato – Gog & Magog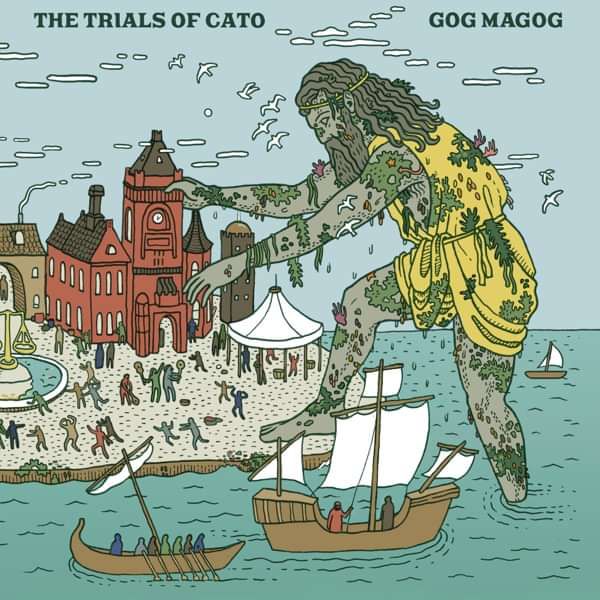 Originally formed in Beirut, the band focused on the UK from 2016 onwards, performing tirelessly up and down the country (I remember watching them in York's Parliament Square and was, even then, blown away. Their debut album, Hide and Hair, gained attention in national publications and won Best Album at the 2019 BBC Radio 2 Folk Awards. And then came Covid-19. But now they are back, with multi-talented instrumentalist and singer Polly Bolton. Gog Magog is named both after the mythical giant of Arthurian legend and the Cambridgeshire hilltop, where the new album was birthed over lockdown.
I am so pleased to see the growing recognition of this award winning trio The Trials of Cato on the UK folk-scene and beyond. I've seen them dubbed "the Sex Pistols of folk," and I get what they mean. They pay clear homage to the tradition whilst twisting its old bones into something febrile and modern with stomping tunes and captivating stories. Their early Celtic instrumental interplay is now just one part of their armoury, as they overwhelm the traditions with neo-trad interpretation of Welsh poetry, or explore folktronica and trad-jazz in twelve flights of fancy underpinned by bold and vibrant musical excellence. Whatever they touch is gold. I'm agog!
https://www.thetrialsofcato.com/about
Elise Boeur & Adam Iredale-Gray – Fiddle Tunes
A founding member of indie-folk band Fish & Bird, Adam Iredale-Gray is an innovative guitarist and fiddler with deep roots in Irish traditional music. Fiddler and Hardanger fiddle player Elise Boeur draws on Nordic traditions. Usually seen in the neo-folk quintet Aerialists, this is a duo set of tunes on hardingfele, guitar, and twin fiddles.
In this worldly album, Swedish polskas and Norwegian gangars twist and turn alongside Irish jigs and reels. Adam's vigorous guitar rhythms provide the support for Elise's fluttering, flitting, flirting fiddle. The boundary between tune and improvisation is flirted with, and counterpoint and harmony effortlessly combine – no surprise given their longevity of playing together.An american old-time tune and piece from an Icelandic jazz band complete the worldy excursions. Fluid and expressive, yet focused on the tune. These melodies which have survived centuries across cultures and continents are in safe hands. Flirty.
www.eliseboeur.com
www.adamiredalegray.com
www.aerialistsmusic.com
Grey De Lisle – Borrowed
Grey DeLisle is a singer-songwriter and autoharp player and has been compared (for singing) to Loretta Lynn and Tammy Wynette. DeLisle released Homewrecker (2002), The Graceful Ghost (2003) and Iron Flowers (2004), touring with her producer Marvin Etzioni (electric mandolin), Dave Mattacks (drums) and Hammond (bass) at the time. This is a return to the business after raising a family.
"When the pandemic hit and I was home for an extended period of time, my brother and I started playing covers of our favorite songs at night and uploading them to social media. I hadn't played my autoharp more than a handful of times in years….and all of a sudden…it was like tapping into a spring. The songs just started flowing. I know this is a record of covers….but……" Most recognisable to most people will be her haunting take on Another Brick in the Wall. But Georgia on my Mind, T Rex and James Bond also feature. She has an intimate but powerful voice, and these are positively intriguing interpretations and re-inventions. Oh, and DeLisle's other calling? She is the most prolific voice actress in American animation history, having performed over 2000 cartoon voices since 1996, from The Simpsons to Scooby Doo. One of a kind.
www.facebook.com/GreyDeLisleGriffinOfficial
Roadhouse – 2000 Miles
Roadhouse was formed in the early 1990's and are a long-established big stage blues/rock act featuring songwriter and band leader Gary Boner, fellow original Bill Hobley (bass), Chris Walker (guitar), Frank Dymore (drums), and songstresses Kelly Marie and Mandie G. And this will be their 12th album.
For the twin-guitar lobby, this is dream-worthy action, enhanced by occasional guest appearances by Robin Bibi and previous band guitarist Danny Gwilym, enabling two distinct versions of the ballad "Believe". Only nine tracks, but full on powerhouse Anglo-Americana blues-rock with an epic feel that kicks bottom, so to speak. The epic "Crying of the Wolf", contemporary blues "Death of the Blues" and hook-laden blues-funk of "Steamboat Song" are highlights. Kudos btw to the production which displays their live rawness yet tightness, signaling what we're likely to see live. Raw & Real.
http://www.roadhousegb.liveblues.info/home/
Terence Blacker – Meanwhile…
Originally a story writer who started putting them to music, and a ukelele then guitar player from his youth, since 2012 Blacker has released five albums: 'Lovely Little Games', 'Sometimes Your Face Don't Fit', 'Enough About Me' and 'Playing For Time' which was selected by the Sunday Times as one of its Top 100 Albums of 2020. This latest was produced by Lukas Drinkwater and features jazz pianist Dom Pipkin.
The easiest comparisons are Loudon Wainwright and Jake Thackray. The erstwhile columnist and author writes personal, observational songs that look back, look forward, look around, look deeply and look lively, whether at lockdown times, the environment, diversity and modern life in general. Heartfelt, satirical or humorous, his wordy and spoken-singing style which is accompanied primarily by guitar with other instrumentation, requires the songs to be sharply observant, whether quirky, tender or funny. A troubadour.
Peach & Quiet – Beautiful Thing
Jonny Miller & Heather Read debuted with Just Beyond the Shine which garnered praise such as "a basket of surprises'" 'superb", "sublime", "utterly original". So here is their second release, aiming to be something to reach the heights of previous praise. Producer and electric, pedal steel and slide guitar player Steve Dawson comes alongside with Chris Gestrin (keys), Jeremy Holmes (bass), and Gary Craig (drums).
This collection of 12 original songs has elements of Americana, blues, rock and overtones of 1970s psychedelic rock that came from Laurel Canyon. For a duo only together since 2019, they are emotionally, spiritually and musically together, combining Heather's clear alto with Jonny's gritty "character voice". Heather and Jonny have created an album of hope, courage, and gratitude that life in these times is in indeed "a beautiful thing". Fulfilling.
https://www.peachandquietmusic.com/
Otherish – Gone Wrong Rainbow Blues
Otherish's debut album 'The Book of Otherish' came summer 2021 followed by an interim live recording. They are a group of like-minded musicians, friends from days of The Moonflowers and other aligned bands: brothers Mark and Paul Bradley, neighbour Francis Kane from Belfast and Winchester-raised George Claridge who together with Francis and Paul all contributing songs, vocals and multiple instruments.
Otherish exude a simple innocence which belies their complex thought-patterns and intriguing musical diversity. Careful experimentation, lyrically obtuse yet naively pleasing words, an essence of whimsy yet eerie otherworldliness, means that this band is one of those that have their own sound. A touch of Peter Gabriel or David Bowie, a dash of Richard Thompson, Kevin Ayers or Nick Drake, Beatlesque harmonies, XTC's exploratory spirit, gaelic folk and Irish verse, Divine Comedy's sense of fun – you get it all. "It shouldn't work," says Kane, "but it does". Crafted and unconventional yet natural and unforced. Organic.